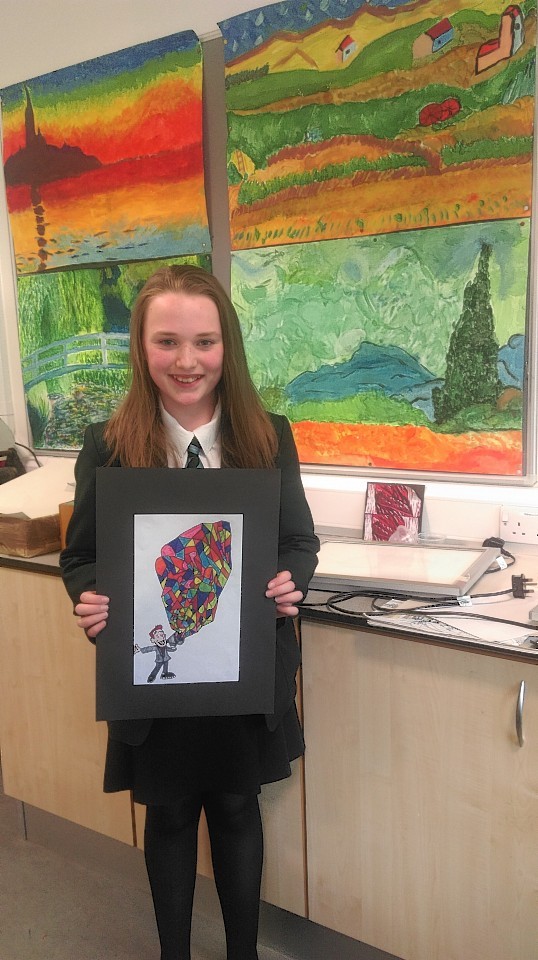 A youngster from Aberdeen has been named one of the top winners of a nationwide art contest.
Alice Shand, a pupil at Cults Academy, signed up for the 2015 Edinburgh Festival Fringe Society's poster competition and came out on top out of all entrants in Aberdeen Aberdeenshire and Moray.
Participants were challenged to come up with a design which reflected their own interpretation of the cultural extravaganza.
Alice emerged as one of 13 regional winners from across Scotland.
The 12-year old explained her inspiration.
She said: "I had a little guy at the bottom with a megaphone.
"The colours make it stand out and it spells fringe because the aim of the competition was to interpret the Edinburgh fringe."
The talented youngster is keen on art and plans to continue with the subject as she progresses through school.
She said she was delighted when she learned of the recognition.
"My teacher told me I had won and I was very happy.
"The whole class signed up and it was the first year I've taken part."
Her winning piece of artwork is now on display at the Museum of Childhood in Edinburgh, where it can be viewed until the end of August.
Her art teacher was delighted that one of her pupils had produced the winning entry in the region.
Amy Barbour said: "The fringe festival poster competition is great.
"It's a great chance for pupils to encounter a live design brief and I'm really happy with Alice's success."
The competition has run since 1980 and has attracted more than 100,000 entries in that time.
The Edinburgh Festival Fringe Society Provides schools and teachers with resources and lesson plans to allow them to make the most out of the contest.
Chief Executive Kath Mainland said the standard was as high as it had ever been.
She said: "Every year my colleagues on the judging panel and I are excited and often moved to see the variety of incredible entries, and to see how every unique effort reflects a different and personal interpretation of the Fringe.
"This year was no exception, and we were overwhelmed to have had such a phenomenal amount of schools and pupils get involved."
She said Alice's entry was a clear favourite.
She said: "Alice's design was chosen as the winner from all of the entries received from Aberdeen, Aberdeenshire and Moray – it beautifully encapsulates the spirit of the Fringe and will be on display for everyone to see at the Museum of Childhood over the summer.
"I have no doubt Cults Academy, Alice's family and classmates are very proud of her."