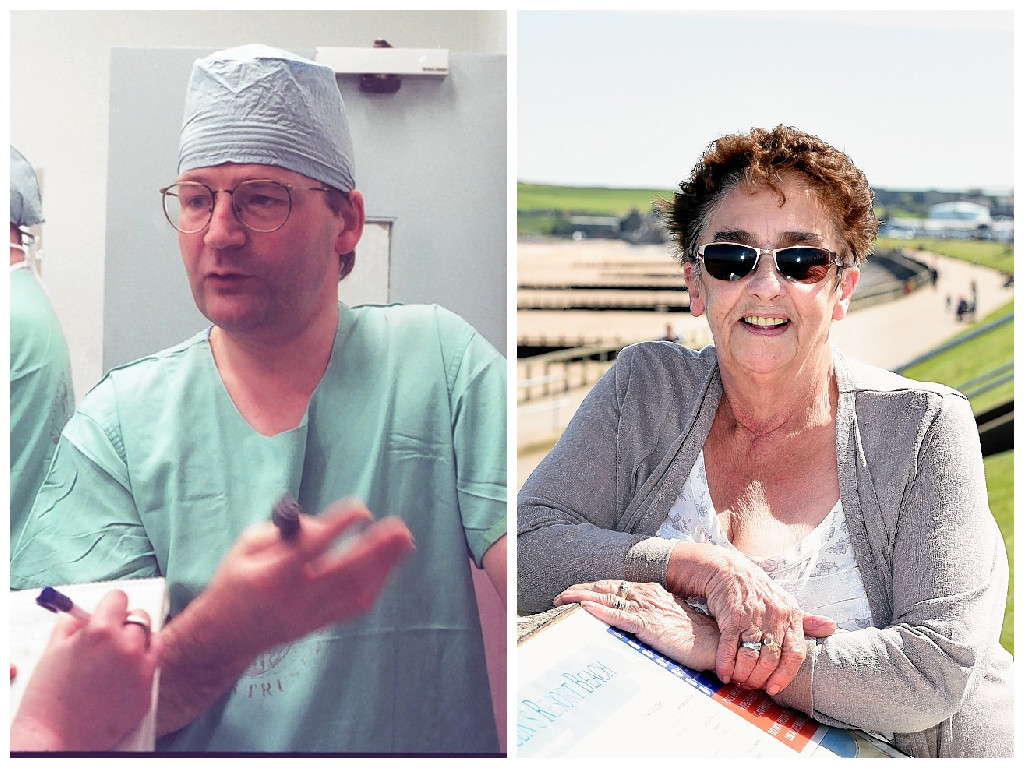 A patient of the Queen's Surgeon in Scotland who has been controversially suspended over his conduct has credited him with saving her life – and claimed that others would suffer if he wasn't immediately reinstated.
Diane Smith, 67, who has been diagnosed with cancer three times, said she had been under the care of Professor Zygmunt Krukowski for the past 26 years and that neither NHS Grampian- nor patients in the north east – could not afford to lose him.
She was first operated on by the professor after being diagnosed with advanced stomach cancer in her early forties.
The mother-of-three also praised his colleague Professor Wendy Craig – also sent home from ARI following a conduct review – after she quickly identified that Mrs Smith was suffering from thyroid cancer for a second time.
Mrs Smith, a regional manager for a facilities company, of Alford said: "I was given an extra 26 years by Professor Krukowski and I don't want other patients to miss out on that chance.
"I doubt NHS Grampian can afford to lose him, or Wendy Craig, and I was absolutely shocked to learn that they have gone."
Hospital sources have claimed that at least six complex cancer operations scheduled for June have been cancelled at Aberdeen Royal Infirmary since the suspension of Professor Krukowski, who is charged with the acute medical care of The Queen while she is in Scotland.
NHS Grampian would not confirm figures.
Mrs Smith said she was now concerned about the care she would receive following her latest diagnosis in March.
She had been due to see Professor Craig in six weeks time to determine the course of her cancer treatment.
"As far as I am concerned NHS Grampian have no contingency in place and patients like me have been left hanging.
"I am halfway through my treatment and at this point have no idea who is going continue my treatment. That is a scary thought for someone who has had yet another cancer diagnosis."
Last night, Mrs Smith was told by NHS Grampian she would be told of new arrangements in three weeks time.
Meanwhile, a petition to have Professor Krukowski and Ms Craig reinstated has the backing of more than 1,000 signatories.
Both work in general surgery and specialise in endocrine surgery, with Professor Krukowski also an expert in gastrointestinal procedures.
The two were suspended on Friday May 29 following a review of their conduct
NHS Grampian has refused to disclose why they were shown the door but the Dignity at Work review which led to their suspension will look at allegations of harassment, bullying or mobbing.
There have been widespread concerns that Professor Krukowski and his colleague were suspended after raising concerns about the performance standards and leadership of ARI.
Mrs Smith said it was not acceptable to suspend the medics when there had been no fault with their clinical standards.
"NHS Grampian has lost an excellent cancer surgeon. When I first saw Professor Krukowski was introduced to him as one of the best in the country."
A spokesman for NHS Grampian said: ""We are working on a case by case basis to ensure all procedures are covered by appropriately trained clinical staff. We will communicate directly with patients to make them aware of any changes; where possible we hope to avoid rescheduling procedures or appointments."
Suspended surgeon: The background
A whistleblower first contacted then health secretary Alex Neil in March 2014 with concerns from senior medics over management and clinical standards at ARI.
Mr Neil then ordered Healthcare Improvement Scotland to carry out a full review on performance and culture at the flagship hospital.
More than 500 members of staff were interviewed as part of that process
The results did not make easy reading for NHS chiefs with HIS confirming serious issues at the hospital.
Former chief executive Richard Carey and former chairman of the board, Bill Howatson, stepped down before the HIS report was published with several executives since leaving the organisation.
HIS found issue with leadership, culture and behaviour at ARI with patient care being put at risk.
Managers were found to be remote and uncommunicative and the board ill-informed of key issues at the hospital.
Inspectors also raised concerns about some senior medics, particularly the behaviour of a minority of consultants in general surgery.
Failure of management to resolve theses issues had harmed morale, team working and patient care, HIS said.
In addition, former medical director Roelf Dijkhuizen called in the Royal College of Surgeons England to review the general surgery department. That happened in September 2014.
It found "significant number of the surgeons working within general surgery had exhibited unprofessional, offensive and unacceptable behaviour."
The full contents of the report have been kept secret but the quality of the inspection – which recommended immediate reforms to the department – has been criticised y some given the lack of corroboration of witness statements and some witnesses not being called.
Legal advice has been taken by medics named in the report amid claims they have been treated unfairly by the process.
A number of medics interviewed by RCS have been referred by NHS Grampian to the General Medical Council, with Professor Krukowski and consultant Wendy Craig thought to be among them.
NHS Grampian also launched an internal Dignity at Work investigation against the pair following claims about their conduct raised in earlier reports.
It is this that has led to their suspension.
Supporters of Professor Krukowski and Wendy Craig have claimed that NHS chiefs have 'taken revenge'on those who criticised the regime and that treatment of the two medics has been disproportionate.
NHS Grampian won't comment on individual cases.