Teachers at a north-east school have been praised after they restrained a pupil who threatened to stab a teacher.
Police were called to Dyce Academy after the teenager armed himself with a makeshift weapon and said he was going to attack deputy head Ian Jackson.
But fellow staff intervened and the incident ended with no one being injured.
The school day was not interrupted by the incident, although a text message was sent to the parents and guardians of all pupils shortly afterwards.
It read: "An incident in school this morning has been dealt with quickly and appropriately. No one has been harmed. School is running as normal."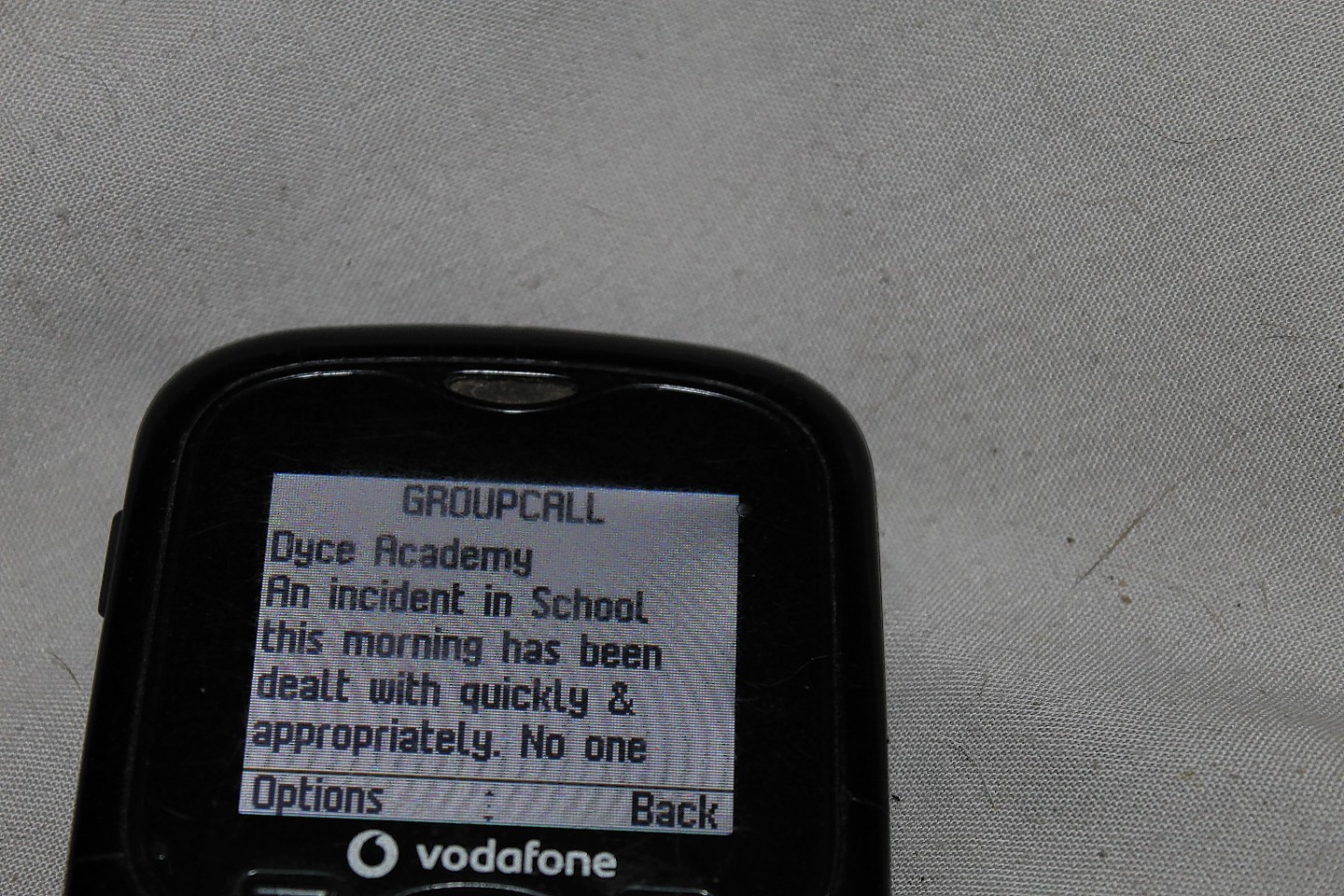 But one parent said the message left them "scrambling around" for more information and said it was "dreadful" for them to be told about the incident by text.
She added: "There was nothing about it that was reassuring.
"To get a text as a parent to say that there is nobody harmed you are left there wondering, and there is not even a personal call coming through saying there is something happened.
"You just get the text and then you are not told any more and you ring up and they say everything is fine."
It is understood the boy – a young teenager – had armed himself with either a screwdriver or a pair of scissors.
The incident happened on the same day a teacher was stabbed in the stomach by a pupil at a school at Bradford in Yorkshire.
Last night, the general secretary of the Educational Institute of Scotland (EIS) – the largest teaching union in the country – said such situations had to be dealt with "swiftly and firmly".
Larry Flanagan said: "Clearly every incident of violence is extremely worrying and has a very serious impact on those affected, but it is important also to keep the true scale of the problem in perspective.
"Thankfully, serious disruption and violence continue to be a much less common problem than persistent low-level disruption such as talking out of turn or texting in class.
"However, it is essential that when serious incidents do occur, they are dealt with swiftly and firmly – including police involvement where a teacher has been physically assaulted or placed under severe threat."
A spokeswoman for Aberdeen City Council said: "An incident took place at the school which was dealt with promptly and appropriately by staff.
"No one was harmed and the school day continued as usual."
A police spokesman said: "Police were called to an incident at Dyce Academy on Thursday morning. A child will be reported to the relevant authority. Police will continue to liaise with the school and Aberdeen City Council."
Aberdeen councillor Ross Thomson – a member of the education and children's services committee – said the Dyce Academy staff has been "brave" and that he was pleased that no one was hurt.
He added it was normal protocol for other parents to be alerted by text when incidents such as the one at Dyce happened.
He said: "I think it was responded to in the right way by the members of staff, I think they handled it bravely.
"It is not something that happens regularly and it is not common in the city – which is a good thing and a good reflection of the city and I think staff handled that in a great way.
"The staff knew how to react. We just need to review the situation and the lessons learnt as you would in any situation."
Mr Thomson added: "Scotland-wise there are issues with teaching staff and something we really need to look at being robust about. Staff need to be 100% safe.
"We have had incidents where teachers have had chairs thrown at them. Fortunately in Aberdeen it has not really been the case.
"But I think it shows we need a change in approach when it comes to the safety and security of the teachers in our schools."