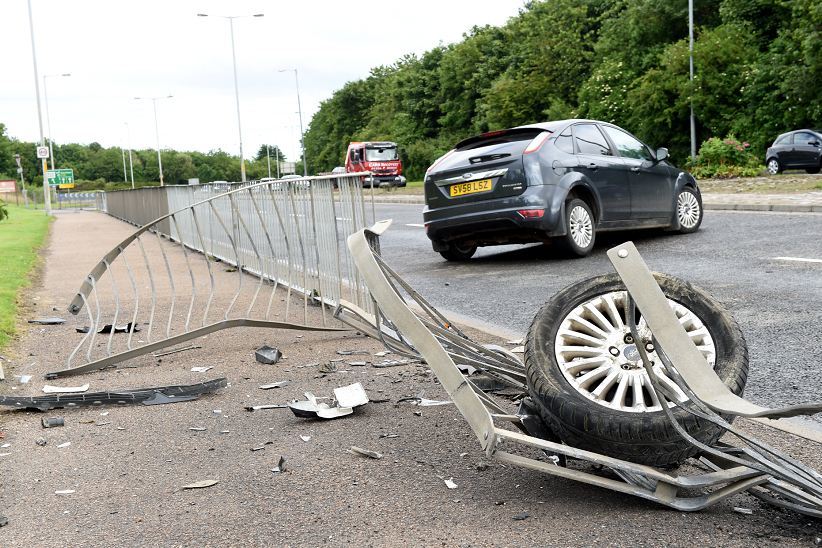 A busy north-east road was closed yesterday afternoon after a car crashed through a metal barrier.
A wheel was left embedded in the railing near the Travelodge in Bucksburn following the collision, which happened as the black Ford Focus travelled on the eastbound carriageway of the A96 Aberdeen to Inverurie road.
The crash, which involved just one vehicle, happened around 3.40pm.
Police were sent to the scene to divert motorists from the accident after the vehicle landed near the central reservation.
Fire crews and paramedics were also called to the scene, and the car's airbags were deployed.
Nobody was seriously injured in the incident, however.
At the scene yesterday, a section of the barrier the Ford Focus crashed into was completely destroyed.
The front left-side wheel was embedded in the railing after it was ripped from the car's bodywork.
The front of the car also suffered significant damage, and debris was strewn across the tarmac.
A police spokesman said: "There was an accident on the A96 near the Travelodge and McDonalds area of Bucksburn. It happened on the eastbound lane towards the city.
"There is a bit of debris, but there are no injuries."
An ambulance spokesman said: "We did attend. A car had hit the barrier but there was no injuries and no one was taken to hospital."
Two fire appliances were also called to the scene.
A fire and rescue spokesman said: "We attended, but didn't do anything.
"We sent two appliances from Anderson Drive, but the crews were not required."
Police remained at the A90 to divert traffic while officers waited for a recovery vehicle to remove the car.
The road re-opened around 5pm.