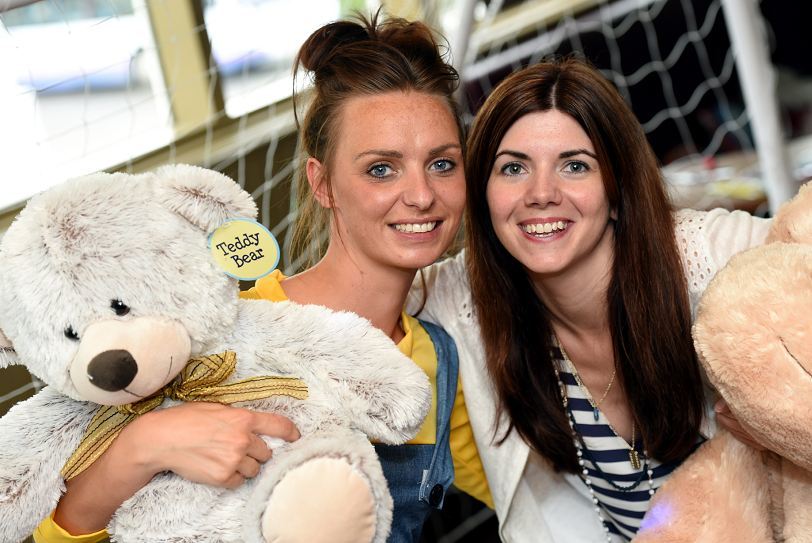 As a hairdresser, Vikki Kane, is used to hearing about the highs and lows of her customers lives.
But a chance encounter with a family who had been going through a tough time made her go above and beyond to make a difference.
Yesterday, hundreds of people descended on an Aberdeen bar to support the fundraiser she organised for Stonehaven-tot Finn Mackin, who has a rare form of cancer.
The Royal Aberdeen Children's Hospital (RACH) has become the youngster's second home since he started treatment in February – just days before his first birthday – and his mother, Siobhan Rolinson, and father, Stephen Mackin, have been by his side the entire time.
Two months ago, Mr Mackin popped into The Men's Emporium barber on Thistle Street, Aberdeen, for a haircut between hospital appointments.
He got chatting to his hairdresser, Miss Kane, and opened up about everything his family are going through.
With two children of her own, and so moved by what she heard, she and her colleagues turned up at the RACH that night with presents for Finn and his parents.
Not stopping there, they decided to go one step further in their quest to help, and set up a fundraiser to pay for a "holiday of a lifetime" for the family once Finn is better, to decorate his bedroom and to give him all the special treats he deserves.
From friends and family to complete strangers who had heard about the fundraising drive, people descended on the Holburn Bar in Aberdeen in their masses yesterday to support the worthy cause.
Miss Kane, along with her colleague, Margaret Riddoch, had organised a raffle with generous prizes donated by local companies, competitions and a host of entertainment to keep guests of all ages entertained.
She admitted that she easily stressed over organising her own children's birthday parties, so the thought of arranging a massive fundraiser for a family who were complete strangers to her just a few weeks ago was a huge deal.
"But I'm so, so please with how it has all went," she said.
"I have never done anything like this before in my life – I'm so grateful to everyone who helped me put it on and who has turned out to support us."
Ms Kane's boss, Denise Fyvie, said it came as no surprise that Miss Kane and her colleagues went over and above once they heard about what the family were going through.
"These girls have hearts of gold," she said.
Funds to go to ARCHIE foundation
Finn's fundraiser is expected to raise thousands of pounds, with more than £2,500 in the bank by yesterday afternoon.
His parents said that because they had been so lucky with the support they had received from the hospital, their family and friends and the companies they work for, the money raised should go elsewhere.
Most of the funds will be donated to the ARCHIE Foundation, the official charity of the RACH, which funds and supports facilities at the hospital like the parents' accommodation, which they have depended on.
"It's amazing how one chance meeting can come to this," his father said.
In between joining in the fun yesterday, Finn's parents took it in turns to visit him in hospital.
The youngster was a "healthy and happy" 11-month-old when he was diagnosed with an incredibly rare form of acute myeloid leukaemia.
In February, just days before he turned one, he started receiving intensive chemotherapy.
But just as he was due to start his last round, he contracted an ear infection and the muscles on one side of his face became paralysed.
Tests showed the leukaemia had returned, and that he had developed a tumour on his brain.
Finn is now receiving more aggressive chemotherapy to treat the relapsed cancer.
Once that is complete, he will travel to the Royal Hospital for
Sick Children in Glasgow where he will undergo a bone marrow
transplant to reduce his chances of a further relapse.
For now, his parents are taking "each day as it comes".
His mother, Siobhan, said Finn was getting along well with his treatment.
She said that despite everything they had been through, it was amazing to find new friends because of it.
"They've done all this for us and we didn't even know them – it's amazing," she said.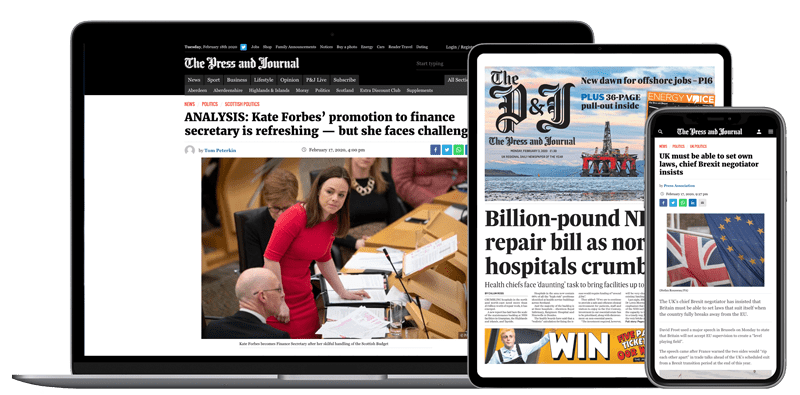 Help support quality local journalism … become a digital subscriber to The Press and Journal
For as little as £5.99 a month you can access all of our content, including Premium articles.
Subscribe