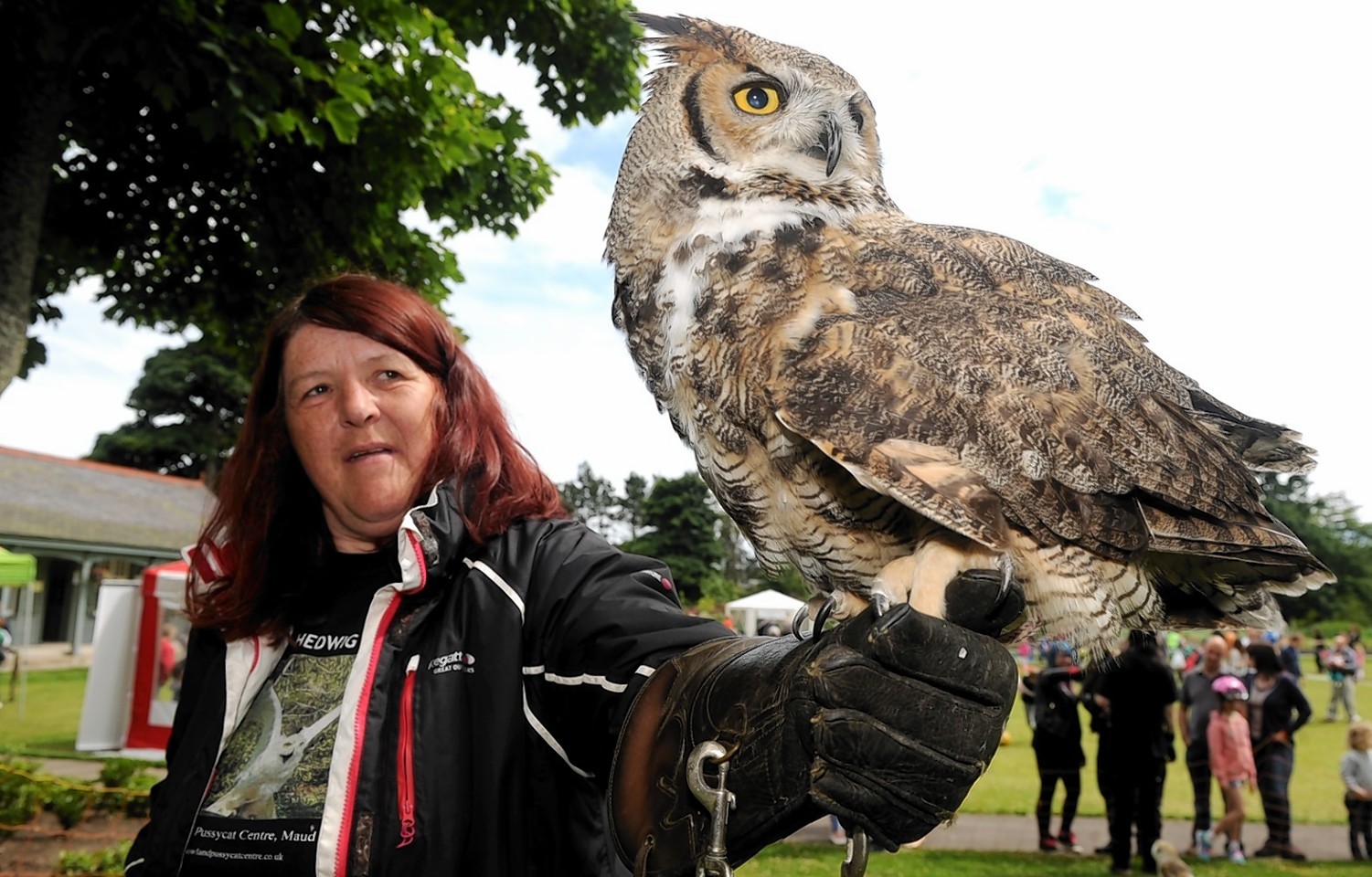 A Hollywood celebrity of the feathered variety paid a visit to a popular Aberdeen beauty spot at the weekend.
Errol – star of the Harry Potter franchise and now an ambassador for the Owl and Pussycat Centre near Maud – was just one of the attractions as crowds of people enjoyed a fun day at Duthie Park yesterday afternoon.
The environment day, which was held at the pavilion, was sponsored by the Friends of Duthie Park group and Travelstock Packaging.
Snowy owl Errol featured in Harry Potter and the Philosopher's Stone – the first film in the hit series based on JK Rowling's books.
In the film, the winged star – who belongs to Harry's best friend Ron Weasley – is old with poor eyesight, causing him to bump into objects and crash land when he visits Hogwarts.
Hedwig, Harry's owl, also lives at the centre but retired from public events last year.
Yesterday's gathering also featured a host of stalls and activities from organisations such as the RSPB, Aberdeen Bee Keepers' Society and the Royal Horticultural Society.
Speaking last night, Ruth Hickling – manager of the owl centre – said: "It went very well, there were lots of people there with their children asking questions.
"Obviously the Harry Potter owls are a big attraction, Hedwig actually retired last year but we brought along a one-year-old baby owl, Flake.
"Flake looks a lot like Hedwig does in the films because of her age so people were happy."
The owls were bought in 2010 from their previous owner in Orkney, who had signed a confidentiality agreement with film-makers Warner Brothers.
As well as the birds of prey, the centre is home to about 50 cats, along with 14 horses, six trained therapy dogs and a total of 35 birds of prey.
It has charitable status, and specialises in providing animal-assisted therapies to people with additional support needs, such as autism, or mental health issues.