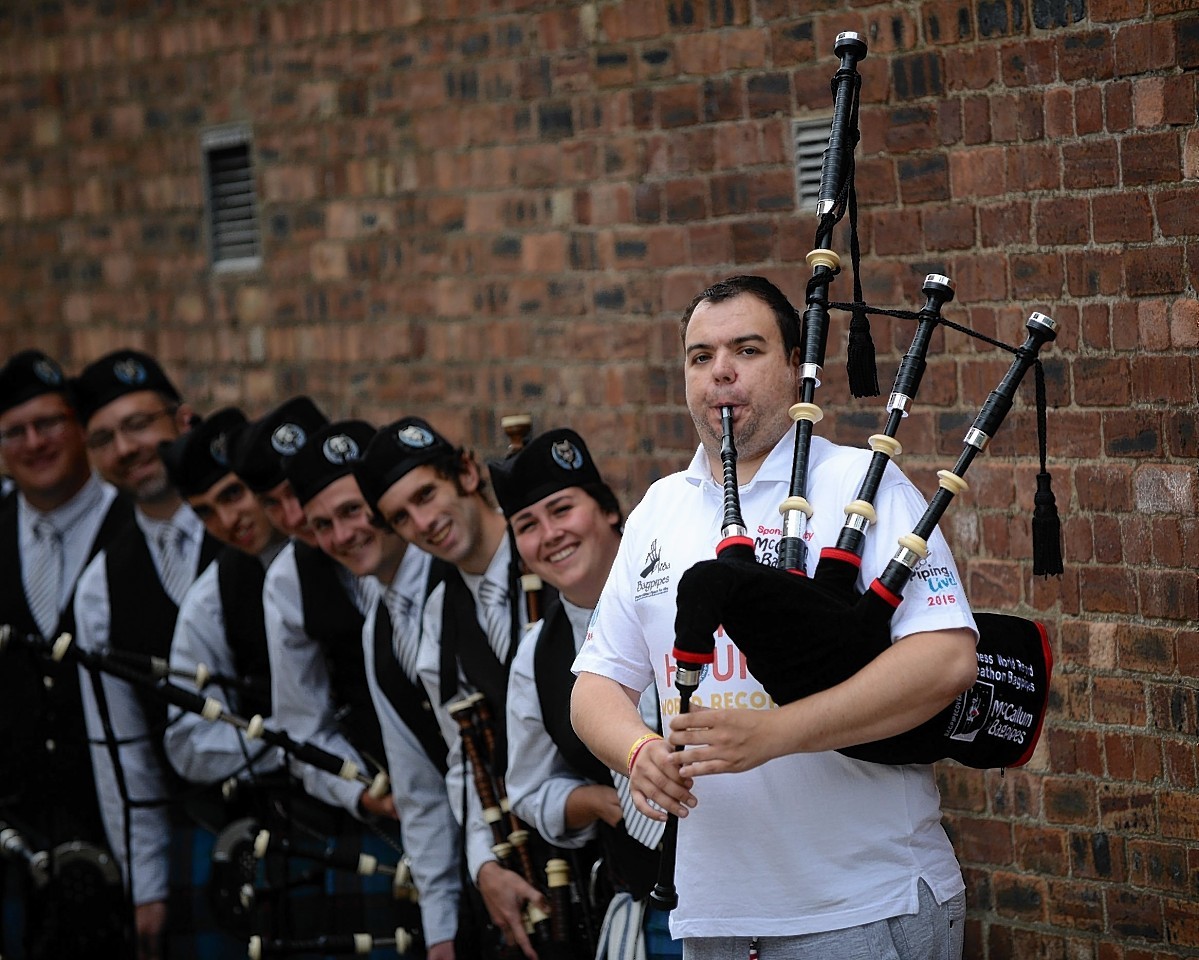 A Scotsman has set a new Guinness World Record after he played the bagpipes for an incredible 24 hours.
Rikki Evans, 29, was relieved to catch his breath after belting out 1,200 tunes on the instrument.
The police controller, from Aberdeen, began his challenge on Wednesday morning and finished yesterday around 1pm.
Mr Evans repeated a medley of 208 songs six times – with a five-minute break allowance every hour – and raised money for a number of charities in the process.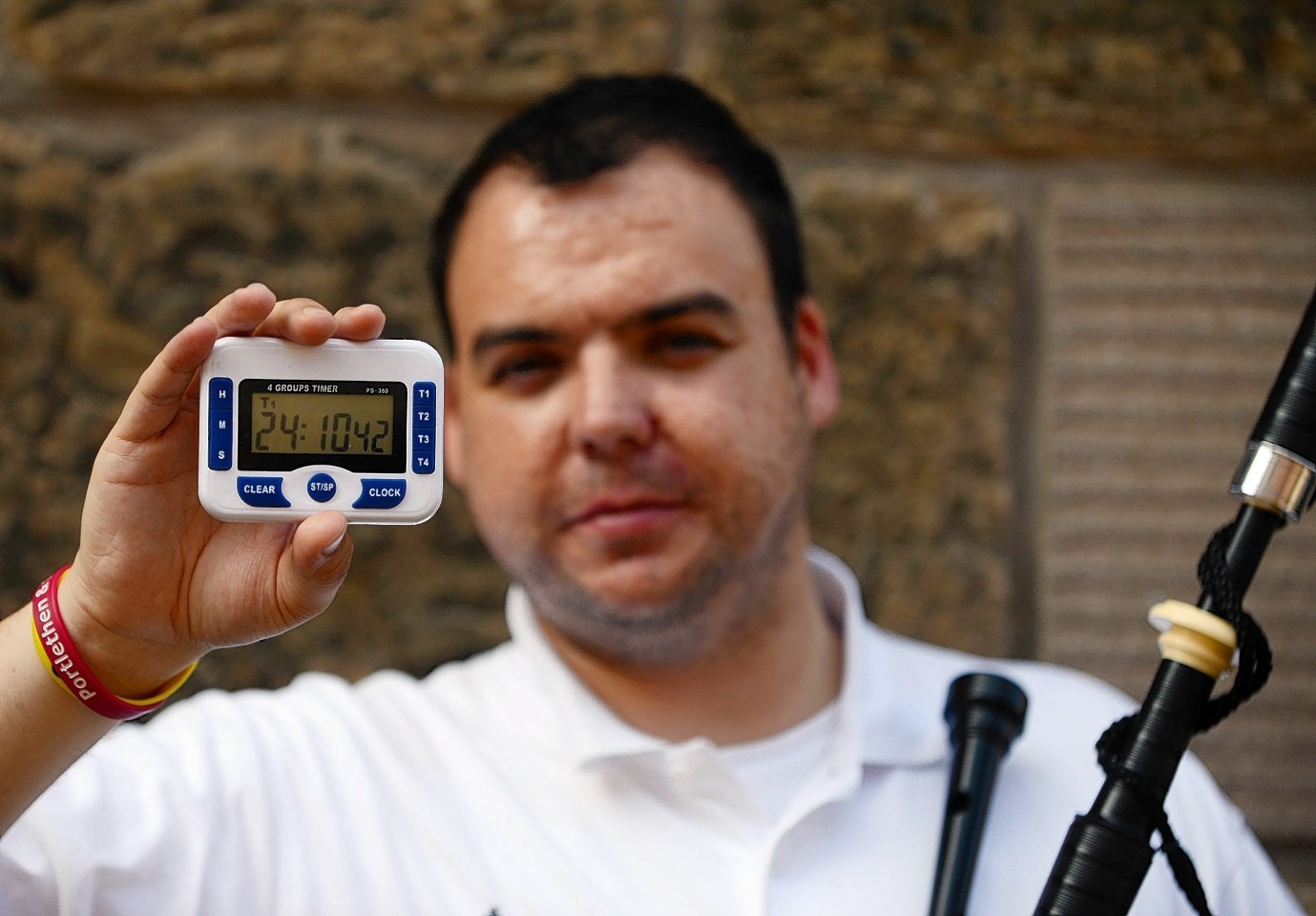 Speaking at the National Piping Centre in Glasgow yesterday he said he was thrilled to have completed the "crazy" endurance event.
He said: "I'm really pleased I managed to get through it all. I'm a little bit shattered. It's crazy.
"I'm actually not as tired as I thought I would be when it came to the end, but my performance towards the finish was a bit ropey by my standards.
"When I'm holding the pipes, it's various things that start to ache, like my back and throat muscles, but nothing that a little bit of throat spray can't fix."
Mr Evans said caffeine pills, momentum and the backing of family and friends had kept him going.
He said: "Everyone has been so supportive, my mum, my dad and my brothers and my fiancee, Suzanne.
In total his family estimate they have raised more than £5,700 for a number of UK charities.
Mum, Maj Evans, 55, who taught her son the pipes, said she was "really proud" of him for giving it his all.
She said: "I always knew he was going to do it all the way through.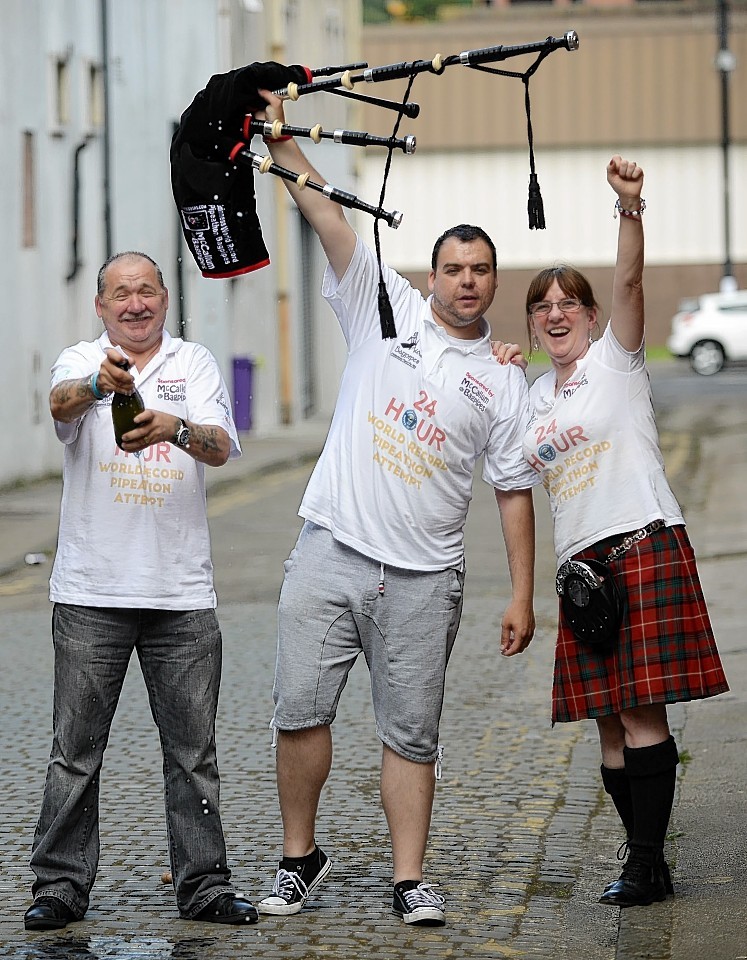 "The only thing I was worried about was the technology failing and the fact because it was so hot he was sweating into his eyes and he couldn't see the counter so he had to count in his head for some parts.
"He'll be after a good rest now, but we're all very proud of him."
A recording of the attempt will now be submitted to Guinness, who will determine over the next few weeks if Mr Evans is to be given the honorary title of World Record Holder.
He said he wanted to complete the challenge at the Piping Live! Glasgow International Piping Festival in memory of famed piper Gordon Duncan.
The festival – the world's biggest week of piping and traditional music – is on until Sunday and will bring together 50,000 music fans and 8,000 performers from around the world to enjoy more than 200 events.