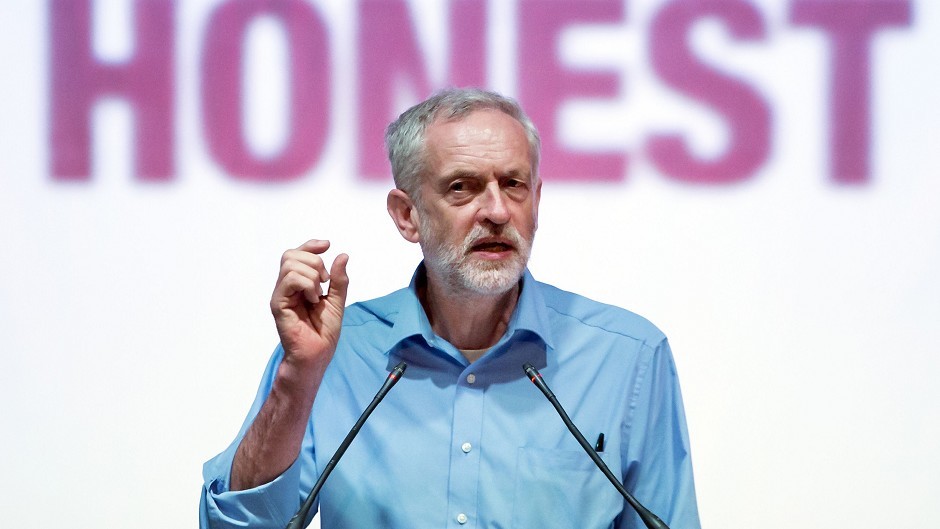 Labour leadership front-runner Jeremy Corbyn claimed his critics were "nervous about the power of democracy" as his campaign arrived in Aberdeen yesterday.
The North Islington MP was responding to warnings from party colleagues such as Tony Blair that his victory would drive Labour towards "annihilation".
About 250 Labour activists packed into Aberdeen Arts Centre and Theatre on King Street to hear the surprise favourite to succeed Ed Miliband spell out his vision at the start of a two-day Scottish tour.
Mr Corbyn paid tribute to the Granite City, recalling that Tony Benn's father William Wedgwood Benn once represented the area, as well as his friendship with former city MP Bob Hughes, and the local trade union tradition.
Yvette Cooper, a rival for the leadership, had earlier become the latest senior figure to aim fire at Mr Corbyn's campaign yesterday, branding his economic policies as "not credible".
But in his speech to supporters, the left-winger retorted: "I feel that some of those people that resort to personal abuse, name calling and all that are probably a bit nervous about the power of democracy.
"Probably 600,000 people will be taking part in this process in the next month. What is there not to like about that?
"That excitement, that mandate for change, peace, economic and social justice. That mandate for real democracy and real empowerment in our society.
"Let's be adult about it. Let's have a serious debate, serious discussion, serious proposals put forward."
Asked about his position on re-nationalising industries, Mr Corbyn specifically highlighted the railways and the National Grid as opportunities for public ownership, as well as his wish to bring bus networks under the control of local authorities.
He pledged to remove the prime minister's power to go to war without parliament's approval should he end up at 10 Downing Street, while blaming the Iraq invasion for the Labour Party's recent woes.
"We're all paying the price of Iraq. The Labour Party has paid the price of Iraq," he said.
"I'm determined that we will learn that lesson, and we will not go to war on behalf of whatever capricious US president happens to be in office at that time.
"We won't go to war on the basis of a lie, we won't go to war knowing that one war leads to another and another and another."
Mr Corbyn spoke passionately about his life-long opposition to nuclear weapons, suggesting that the thousands of workers building and maintaining the Clyde-based Trident system should be retrained.
Speaking to journalists before the rally, he said: "My life has been one of a moral opposition to nuclear weapons.
"We've put forward serious proposals for a defence diversification agenda for the whole of the UK to ensure that jobs are not lost, those skills are not lost, the engineering capability is not lost.
"Instead, they're not making nuclear weapons, they're making something that is safer and more useful for the whole world."
Mr Corbyn rejected the SNP's ambition of Scottish independence, but said he is willing to work with the party to fight the Welfare Reform Bill.
"Clearly in the UK Parliament there isn't, at the moment, a majority that can defeat the Conservatives on welfare and other issues," he said.
"But clearly all other UK parties have got to come together and that will indeed put a lot of pressure on the Conservative Government. Who knows what comes from that."
Asked about Scottish independence, he said: "At the end of the day, the UK has to share out its resources in a fair and reasonable way, and ensure that everyone gets somewhere to live, every young person gets a college place, a university place or a training place and they move into good quality jobs.
"Scotland is the basis of so much of the engineering industry of the whole of the UK.
"Thatcher's de-industrialisation is a scar that's still there all across the UK, but particularly in Scotland.
"I do not support English laws for English issues. It's a UK Parliament and all members of the UK Parliament should be able to vote on all issues that are put before the UK Parliament."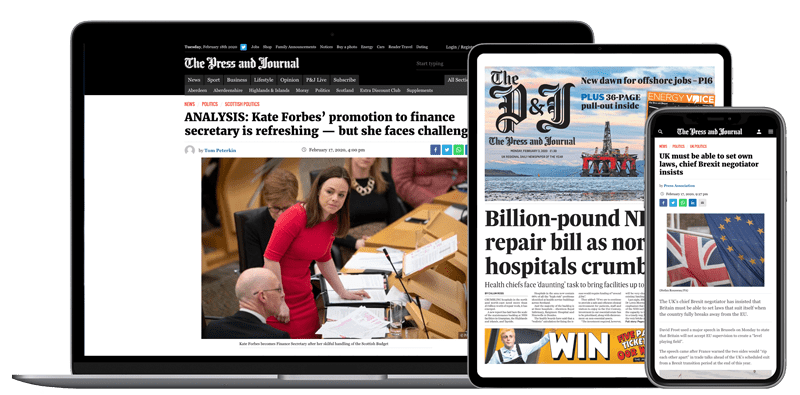 Help support quality local journalism … become a digital subscriber to The Press and Journal
For as little as £5.99 a month you can access all of our content, including Premium articles.
Subscribe