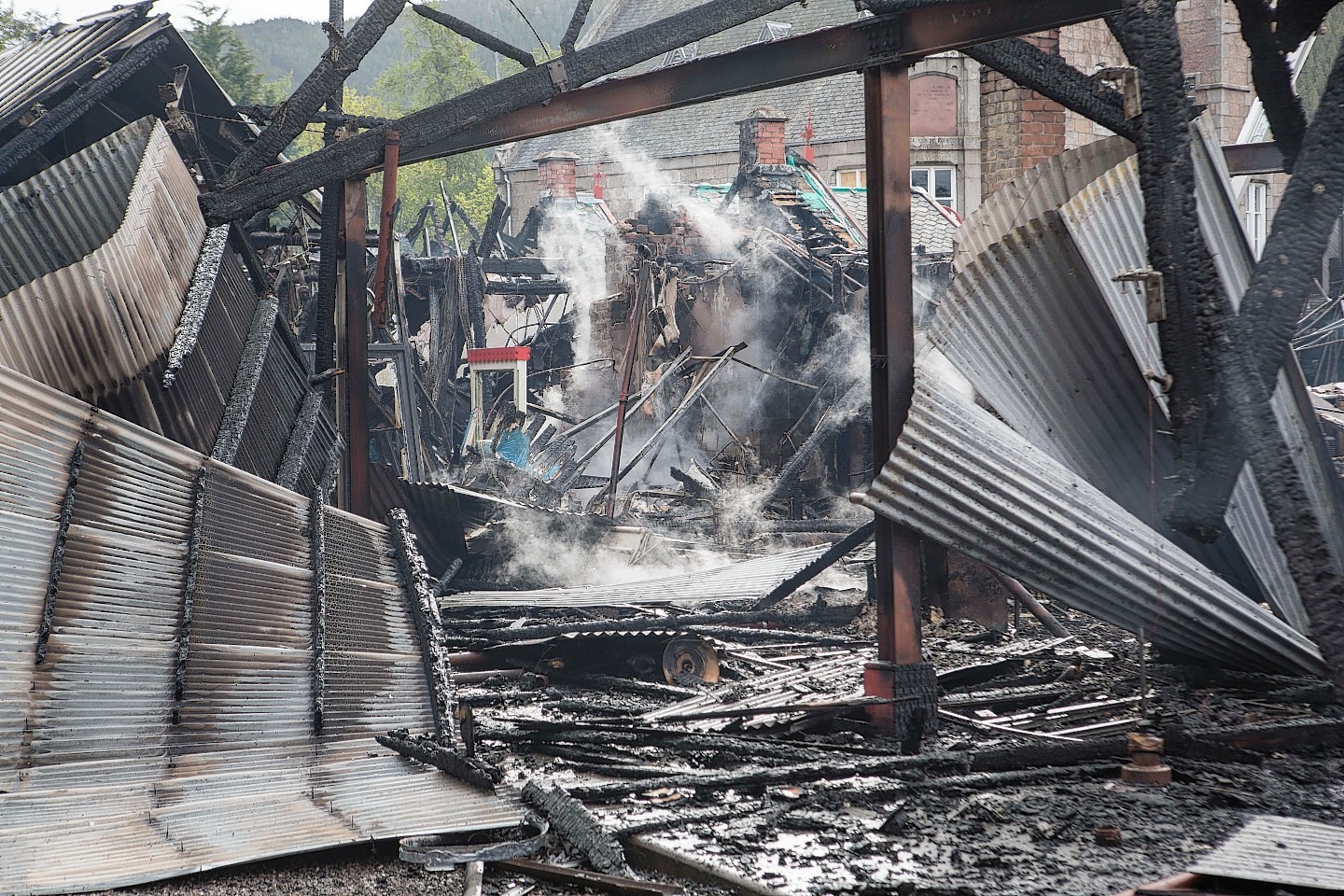 Demolition work has started on a historic Aberdeenshire railway station devastated by a massive fire earlier this year.
The Old Royal Station in Ballater was left a burnt out shell following the blaze, with a visitor centre and museum, restaurant, photographer's office and a clothing shop all lost in the flames.
Aberdeenshire Council has since pledged to rebuild the building – described as the "centre piece of the village – retaining as many of its old features as possible.
However, a report to councillors last month indicated that only the Victorian waiting room and visitor centre can be salvaged – meaning the rest of the building will have to be knocked down and built up again.
Now the £150,000 project to prepare the site for renovation has started, with David Smith Contractors clearing debris and demolishing the areas beyond repair.
Workers will soon begin to erect an enclosure to protect the waiting room, whilst the council has also appointed a lead architect to the project.
Upper Deeside councillor Geva Blackett said: "Now that the work to demolish the destroyed building has started, people can begin to feel Ballater is moving on from that dreadful night in May.
"Decorating the hoarding surrounding the site will be discussed at a meeting with the community shortly. Really it is onwards and upwards from here on."
Ballater Community Council secretary Jane Angus said local residents were "very much looking forward" to having the station re-established in the village.
She added: "It is getting there. We are hoping that more action will follow soon.
"It is the first step and it is welcomed."
No figure has yet been placed on what it could cost to fully rebuild the station building, which was home to Amy Muir Photography, Lucy's Clothing, the Station Restaurant and a Visit Scotland visitor information centre.
Miraculously, a replica of the royal carriage used by Queen Victoria on her trips to Balmoral, was saved from the flames.
Marr area manager Janelle Clark said: "Contractors are on site to erect a temporary structure to protect this section and the royal carriage, and the council has appointed a lead architect."
She added the local authority were also working to "agree the scope and design brief along with the project timetable" for the project.