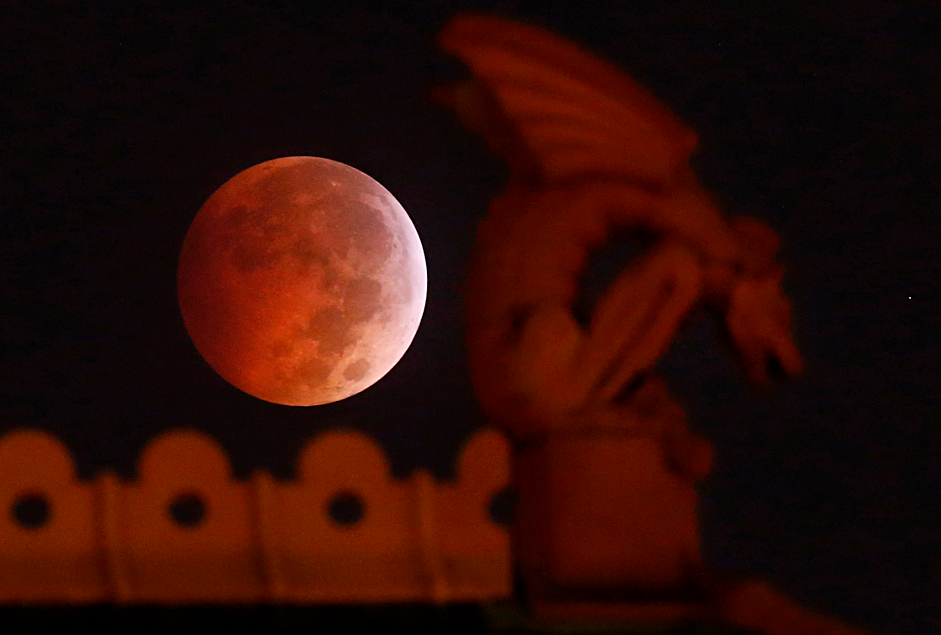 A rare astronomical alignment will create a super-large, blood-red moon on Sunday night – and the north-east of Scotland could be one of the best places to see it in the UK.
The spectacular phenomenon takes place when the moon falls into the Earth's shadow in a lunar eclipse, and at the same time it is at its shortest distance from our planet during its elliptical orbit, an event known as a supermoon or perigee.
By being at its closest proximity to Earth, the moon will appear around 14% larger and 30% brighter, and with the sun's rays bending around the daylight side of our home planet, the usually pale moon will be cast in hues of blood and coppery reds as the sunlight is diffused by the Earth's atmosphere.
The last time the two astronomical events took place simultaneously was in 1982, and it won't be repeated until 2033.
The celestial show will begin at 1.10am on Monday morning, and will last until around 6.30am, and forecasters at the Met Office have predicted that skies will be clear over the much of Scotland to enjoy it.
John Michell, a meteorologist at the Met Office, said: "We're expecting clear skies across most of northern Scotland.
"The best areas for seeing the moon would be across Aberdeenshire, all the way across to the likes of Dingwall and Inverness as well, really a lot of the eastern side of the country will be the best place to be.
"But if you go a bit further west across the north-west Highlands it's expected to be a little bit more in the way of cloud.
"The further west you go, towards Skye and the Western Isles, the prospects aren't looking as good as we're expecting a lot of cloud to obscure the moon further west.
"There will be some cloud across Orkney and Shetland during the evening, particularly across Shetland, but it will be quite thin and will break at times to show the moon clearly."
Unlike the solar eclipse earlier this year, it is completely safe to view a lunar eclipse with the naked eye or through a telescope or binoculars.