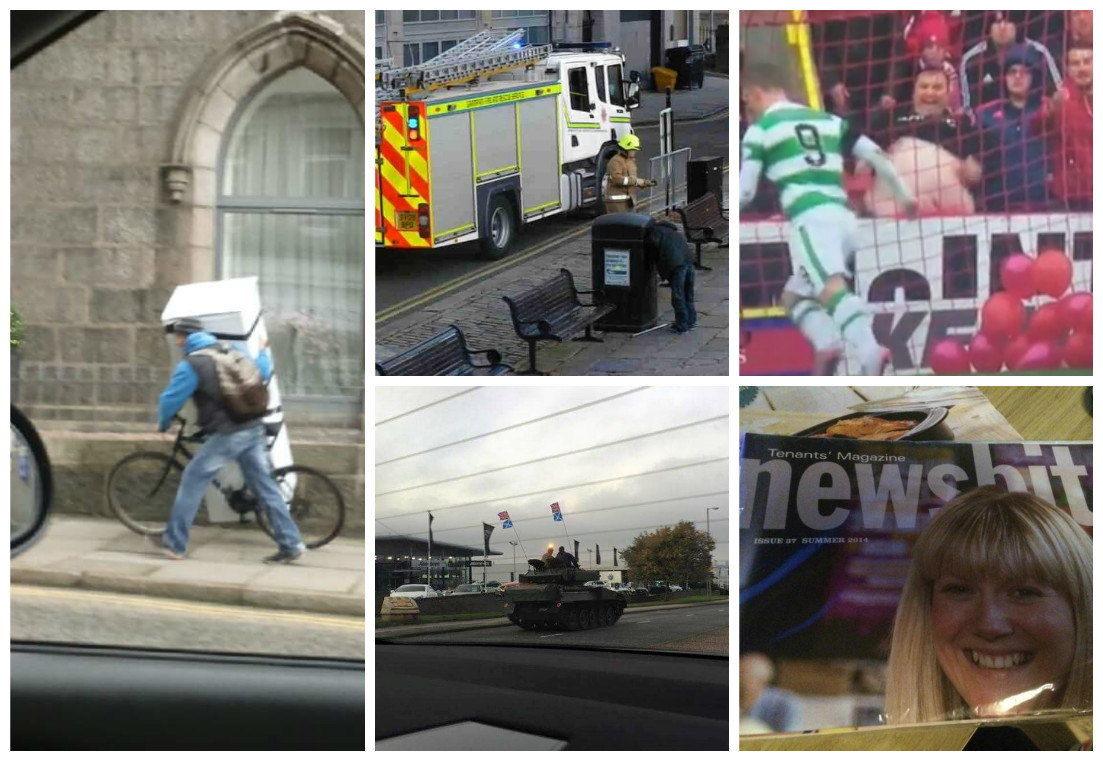 Aberdeen is a great place to live.
It has its ups and it has its downs but one thing is for sure: weird things happen here.
We've cobbled together some of the most bizarre things we could find in our picture archives of Aberdeen life.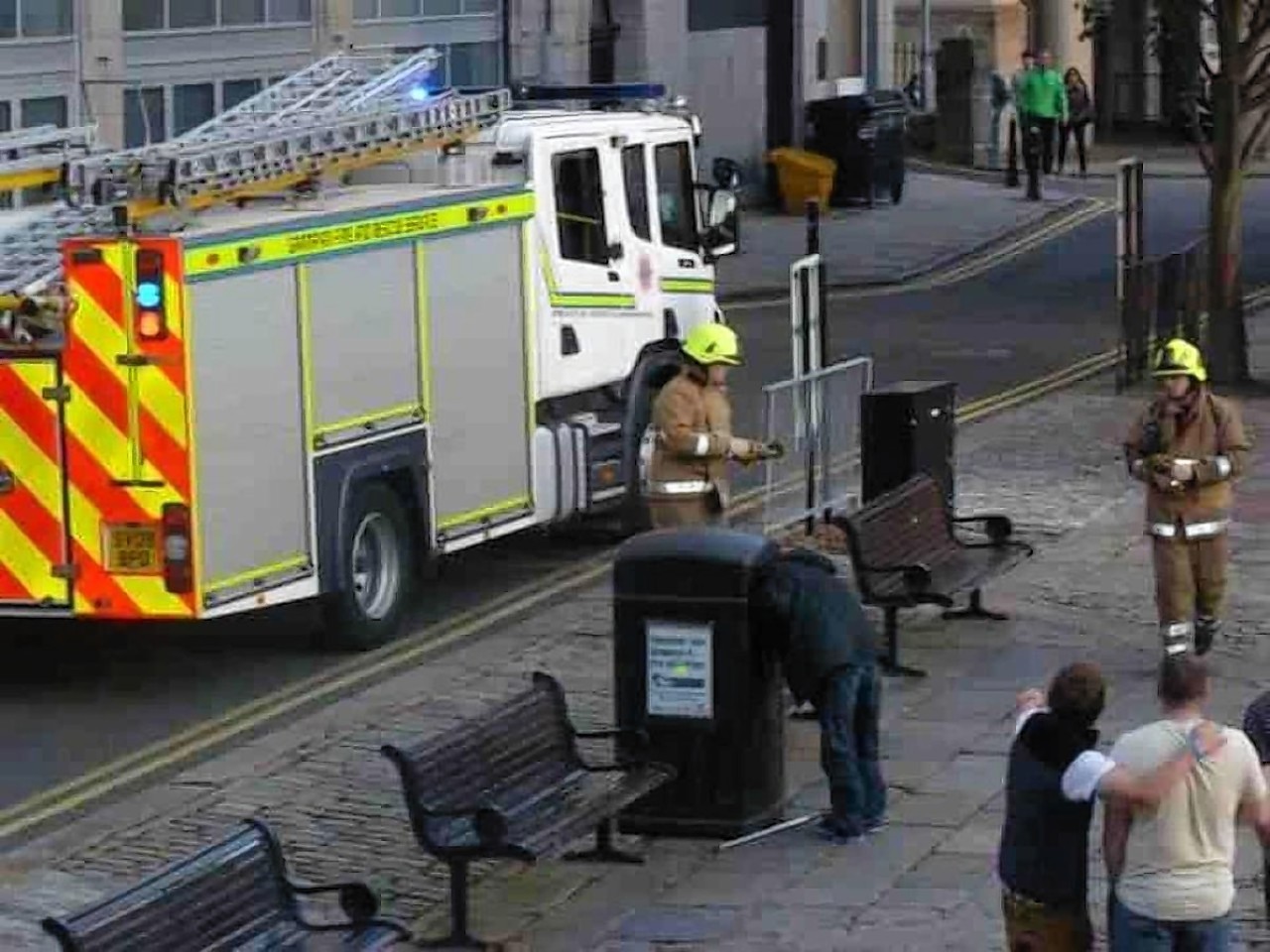 1.Man gets head stuck in bin
Willie Middleton was spoken about around the globe after he got his head stuck in a bin in Aberdeen city centre while 'looking for his hat'.
Now dubbed "Bucket Heid" by his pals, a picture taken of him as ­firefighters cut him free went viral on Facebook and Twitter.
Willie took to wearing a box on his head afterward so people couldn't identify him.
2.Man takes son for a ride, son gives every other driver the finger
This delightful sojourn of father and son took place in the Byron area of Aberdeen.
3. Man transports massive fridge with bike on Rosemount
I guess this is just how he chills out…
4.Massive recovery truck rescues pensioner's mobility scooter
I like to think a daredevil pensioner hit this truck like a ramp, flew off, landed on their feet and jogged off for a rowie somewhere in town.
But that does seem a touch far-fetched, the truck was just moving an old person's mode of transport after it broke down on Union Street… Overkill? Perhaps.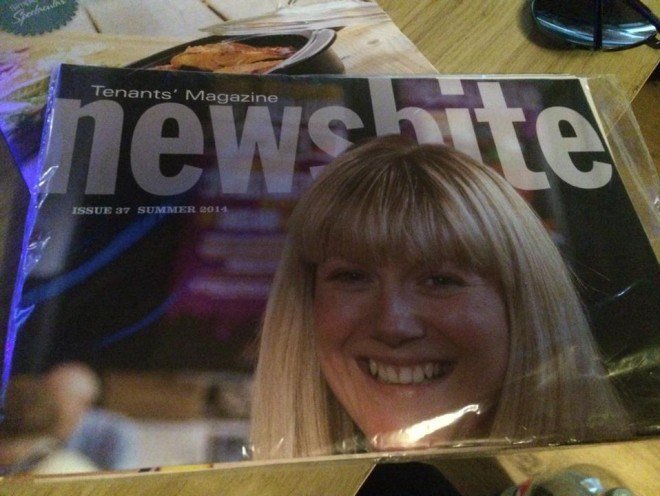 5. Aberdeen City Council fails to spot editorial mistake in magazine
Once you see it…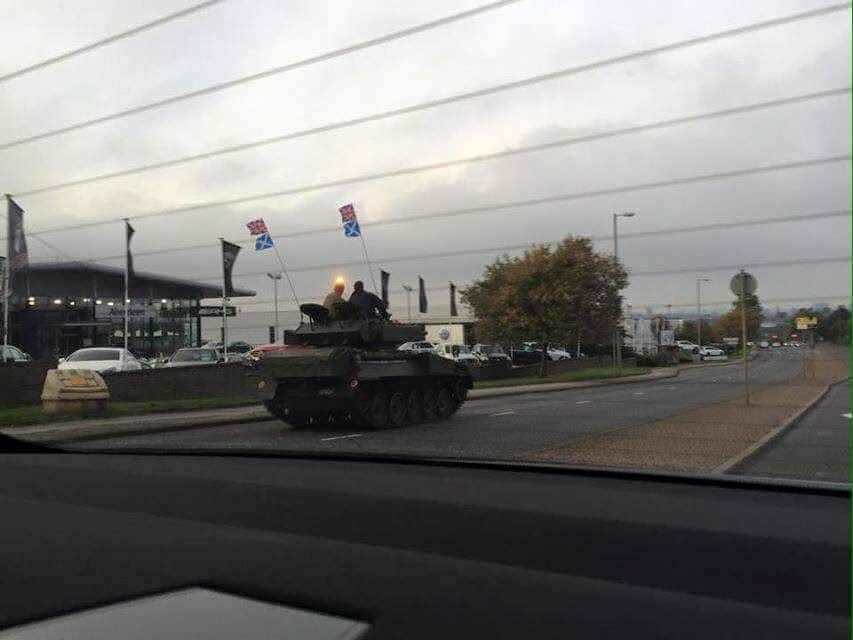 6. Just a light tank driving along Wellington road
This FV107 Scimitar caused a bit of a stir in Aberdeen after it was seen cruising down Wellington road.
Sometimes classed as a light tank, these vehicles are used by the British Army and are manufactured by Alvis in Coventry.
The reason for the weaponised vehicle's jaunt through town remains unknown.
7. Gull invades cinema
CCTV captured the moment a herring gull strode into Aberdeen's Belmont Cinema and terrorised unsuspecting staff.
The gull sauntered through the cinema doors before walking up to the ticketing booth and launching itself at workers.
After suitably terrifying the three members of the Belmont Cinema team it flew off to ruin someone else's day.
8.Gull steals food from shop
The owners of a round-the-clock shop have had just about enough of a brazen gull's repeated attempts to steal from them.
Newsagent Zaman Iqbal has posted a series of videos online of the winged bandit with a penchant for peanuts.
Mr Iqbal runs the 24 Hour Sweet News Store in Crown Street in the centre of Aberdeen.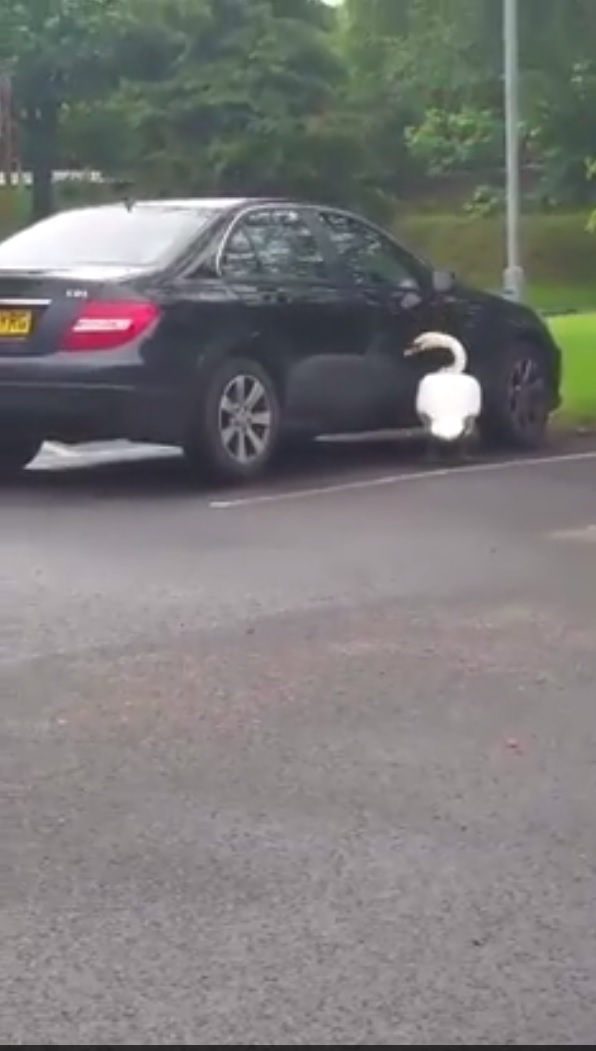 9.Swans attack Mercedes
This arrogant, but majestic, bird has been known to skulk around the river Dee.
He's probably more angry at his own reflection than at this fancy German saloon car though.
10.Gulls attack cars too
Again, it seems this bird is angry more at himself than the car…
11.This stalwart Dons fan tips the scales of fair play during a Celtic game
The Celtic striker Leigh Griffiths put the ball past the keeper but that doesn't mean that this larger than life Aberdeen fan who tried to put him off by lifting his shirt up won't be remembered with a statue one day.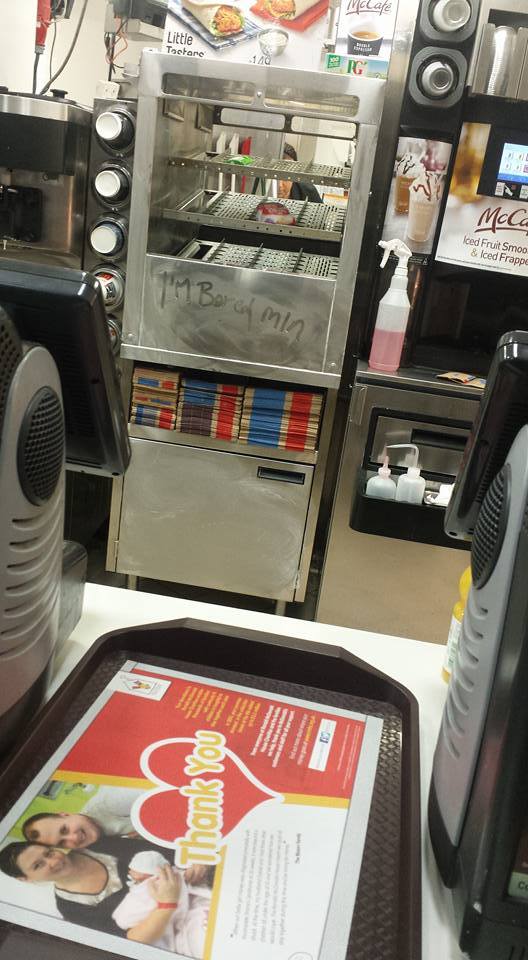 12.This painfully honest message at MacDonalds in Garthdee
Never has precipitation held such a poetic description of the scourge of employment.
13.The sinister Hardgate Horseman
This is a terrifying horseman caught doing some manner of inhuman business in the Hardgate on Google Maps. He must be found and stopped.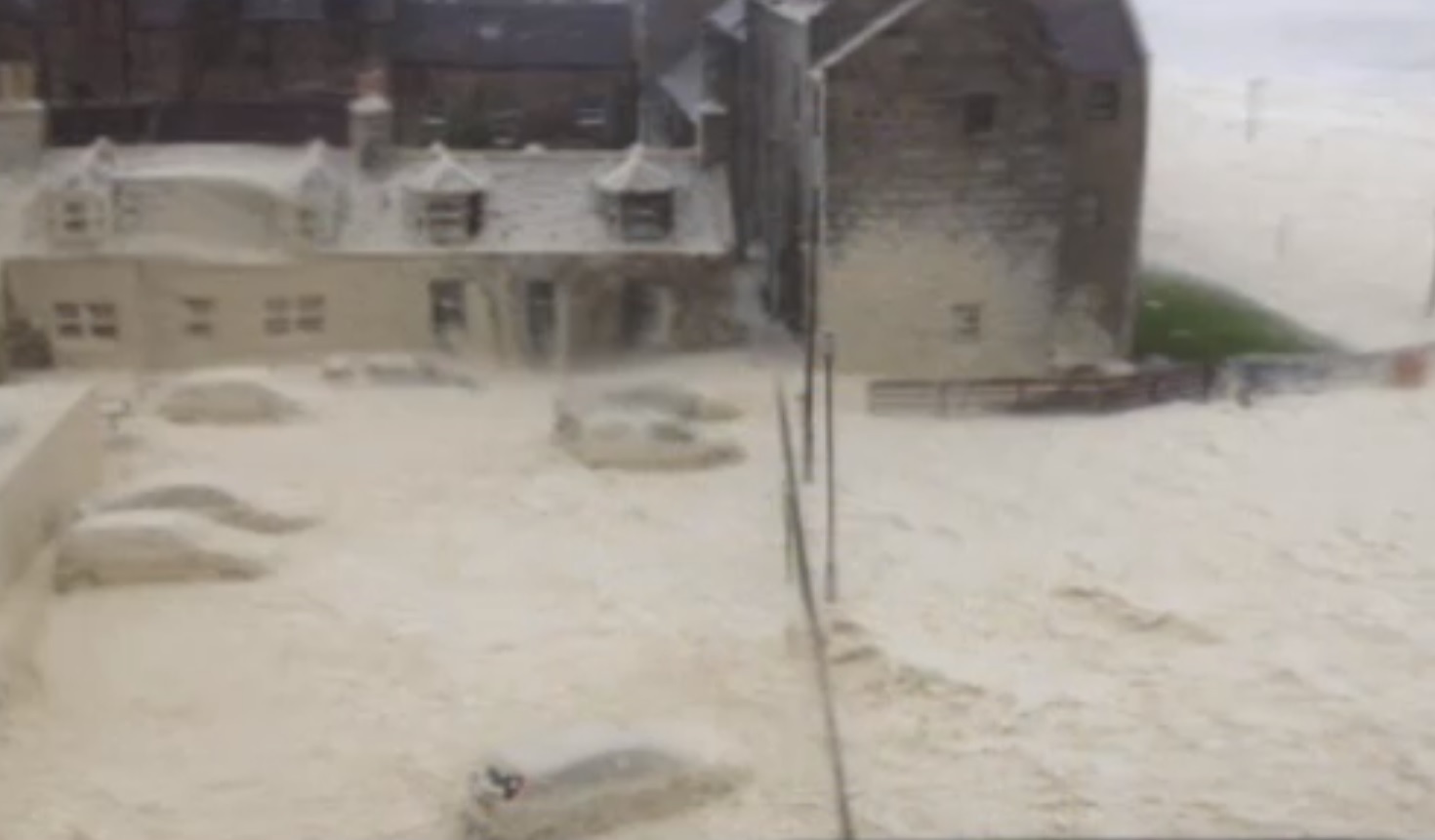 14.When Fittie got a foam party that no one asked for
Nice of Aberdeen to give it's most sea adjacent residents a free foam party…
Not so nice that a lot of that sea foam ended up exploding through the area's sewage system.
15. A community with heart
Ten fully grown men take time out of there day to help pull the shutters down on a cupcake shop.