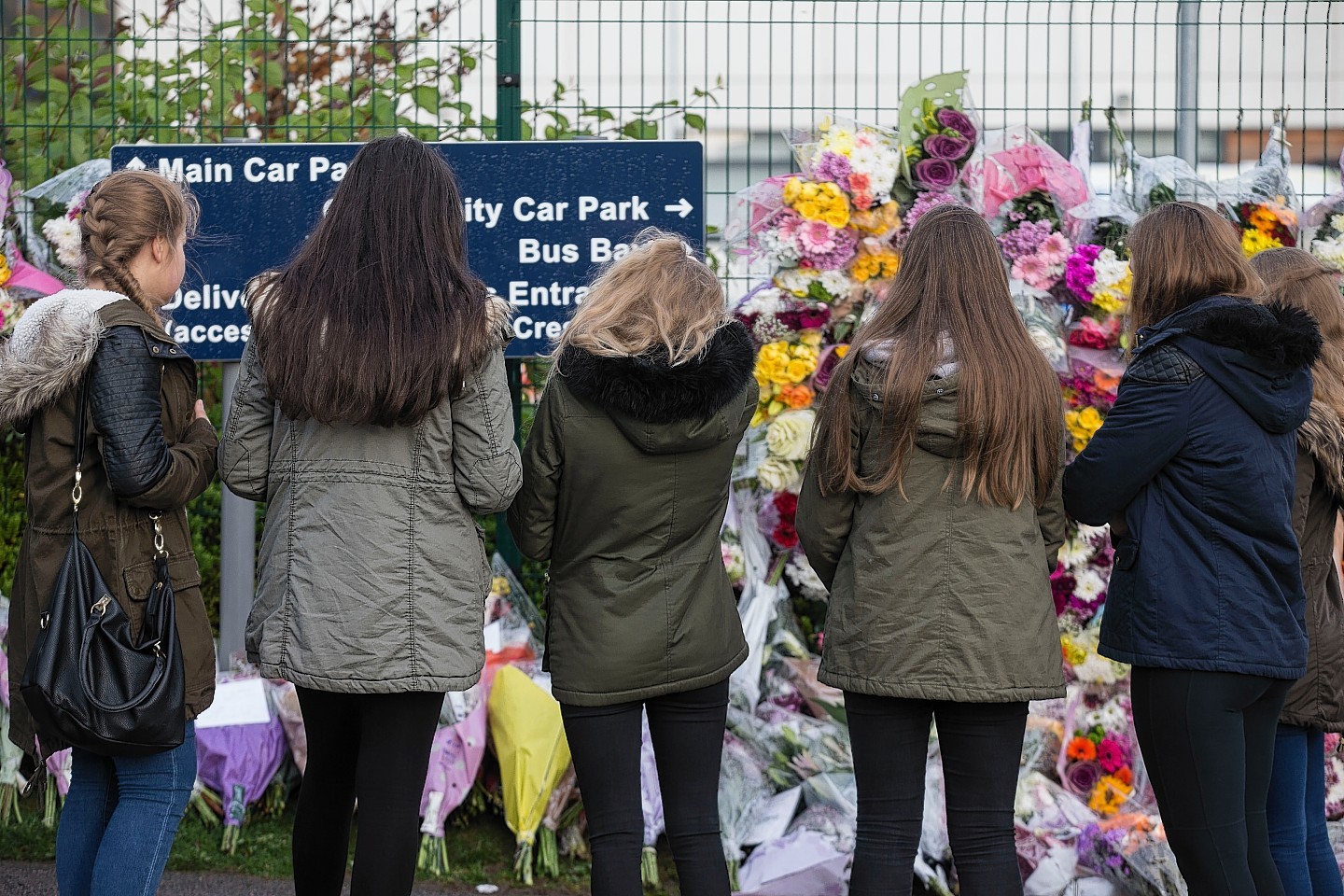 Scores of youngsters braved torrential rain to pay their own touching tribute to Bailey Gwynne yesterday.
They laid flowers and left messages outside Cults Academy, and hugs of comfort were exchanged as they tried to come to terms with the teenager's death.
A crowd gathered outside the school gates from early morning to pay their respects to their friend and classmate.
By late afternoon, as the sun began to break through the clouds, there were pupils lining the length of the pavement outside the academy entrance.
Among them was Neema Nabavian, who was with the 16-year-old just minutes before the incident which led to his death.
He said it was important for everyone who knew him to project the "right message" about Bailey.
He said: "I had thought about not talking about it, but I think it makes it easier to deal with if I speak – I was with him until a minute before it happened.
"We want the right message about Bailey to get out – we want him to be remembered as the nice boy he was, he was quite the character.
"He had grown into our friendship group over the past year and since then we spent a lot of time together.
"We were with him yesterday until the lunch bell rang, then we went to our separate classes and that was the last time I ever saw him."
The teenager was keen to dispel some of the claims which had been circulating since his friend's death.
He added: "There's been a lot of rumours flying around after what happened.
"People have been saying Bailey was involved in an organised fight, but it's not true, it was just purely coincidence that he was split up from the rest of us that day."
Traffic had to slow to a crawl in Aberdeen's Quarry Road yesterday afternoon as more and more pupils arrived at the school.
Some were accompanied by their parents, while others arrived with large groups of friends.
There was a sombre atmosphere as pupils shed tears and huddled together to comfort one another.
Head teacher Anna Muirhead, along with two other senior teachers, briefly came outside to join the crowd and spoke to her pupils.
Members of the school chaplaincy team were also in attendance.
A heavy police presence remained at the school throughout the day, with two uniformed officers standing at the entrance.
Another pupil who was there to pay his respects was Shoaib Khuram, who witnessed the horrific incident.
The 16-year-old: "It was really bad, there was a lot of blood, there was a lot of chaos.
"Bailey was a really nice guy, he was friendly but really shy – I think it will take everyone a long time to get over this."
Bailey attended Lairhillock Primary School in Maryculter and then the city's Waldorf School.
He moved to Cults Academy when the Waldorf was closed last year.
According to friends, he loved fitness and had aspirations to join the Royal Marines after he left school.
The city council has set up a dedicated support service for anyone affected by Bailey's death, which can be reached by calling 01224 264299.