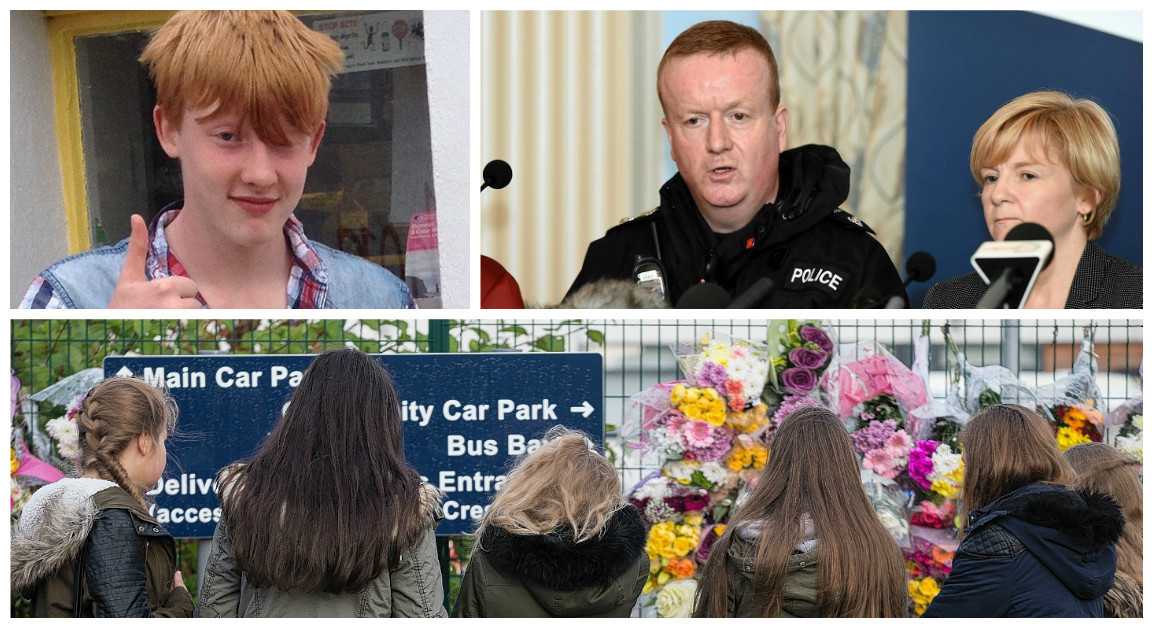 A teenager will appear in court today accused of stabbing a fellow pupil to death in a school corridor.
A murder investigation was launched at Cults Academy after Bailey Gwynne, 16, was attacked with a penknife in his lunch hour.
The fifth-year pupil was taken to Aberdeen Royal Infirmary, but later died from his injuries.
Yesterday – almost 24 hours after the incident which forced the school into lock down – police confirmed a 16-year-old had been charged in connection with his death.
He is due to appear at Aberdeen Sheriff Court today.
Police Scotland's Divisional Commander for Aberdeen City, Chief Superintendent Adrian Watson, said: "I need to stress that all the evidence gathered to date suggests that this is a contained incident.
"We are not looking for anyone else."
The development in the case emerged as Aberdeen City Council officials appeared at a press conference alongside Mr Watson to provide reassurance they were doing all they could to ensure the safety and wellbeing of pupils after the tragic incident.
And simultaneously, Bailey's family released a heartbreaking statement saying they did not know what they would do without him.
"There are no words. Bailey is our beloved boy and our heart. Our hearts have gone with him," they said.
"A special son, brother, grandson and friend – he never failed to make us smile (most of the time). He will always be our boy.
"We don't know what we will do without our junior 'man about the house'.
"We need time now to look after each other and send our love to all those who care for Bailey."
At the press conference held at Aberdeen's Beach Ballroom, local authority leader Jenny Laing described the incident as an "extraordinary" set of circumstances which people were finding difficult to comprehend.
She was flanked by deputy leader Marie Boulton, chief executive Angela Scott and director of education Gayle Gorman – all of who looked visibly upset.
"The loss of a young life – so full of potential – is always a great tragedy," said Ms Laing.
"But these circumstances are particularly distressing as it occurred in a place of learning, friendship and community.
"When you send your children to school you expect them to be in a place of safety and in a place where they will be equipped for their life ahead.
"That opportunity has been denied to Bailey."
Mr Watson said that in all his decades with the former Grampian Police force and now Police Scotland, he could not think of a more devastating and distressing case.
"In nigh-on 30 years in the police service as a senior investigating officer and for the past six years as commander for Aberdeen, you think that you have seen it all, until you learn of yesterday's tragic events," he said.
"On behalf of Police Scotland – and on a personal level – my heart goes out to the family and friends of Bailey and others who have been touched by this.
"I know full well this will be deeply felt not only in the Cults area, but in Aberdeen and of course further afield."
Questions were raised about security measures already in place at the well-respected school, where pupils will return to lessons on Monday.
The officials were asked if a stricter regime would be put in place in light of this week's events.
"I think we have to put some context on it first," replied Mr Watson.
"If you look at the record across the schools, not only in the city but across the nation, these incidents are few and far between, thankfully. This is out of the ordinary.
"We really need to be sensible in that sense in moving forward and being realistic.
"Of course we can always do more, but it is a very safe environment in Cults and generally in education across the country."
The council officials also praised staff at the school who raced to the scene of the attack in a desperate attempt to save Bailey's life.
It is understood a number of pupils also witnessed the incident and tried to help.
All youngsters at the school have been offered the support of psychologists, social workers, counsellors and nurses on-site.
Ms Gorman said she could not go into specific details of what staff did to try to save the youngster.
But she said that there was no question that their efforts were valiant and courageous.
She said: "As you would expect the professionalism and the heroism of our staff was at the forefront.
"Every effort is always made by our staff to protect every child within our school facility, and – in the extraordinary event of yesterday – to help and support the events that unfolded in front of them."
As the spotlight shone on the north-east yesterday, the council's deputy leader Mrs Boulton – who also serves the Cults ward – said the community would pull together.
She said: "Certainly the message I am getting is 'what can we do to support each other?'.
"Cults is – and will continue to be – an excellent school.
"Yes, this has detracted (from this) and will always be something that Cults will have to deal with, but parents shouldn't be alarmed.
"I went to Cults myself, I am a member of the community, and Cults will always be a safe school.
"We've had this incident which is beyond words, but I would urge parents to seek comfort in that this is something that could have never been anticipated in a million years."