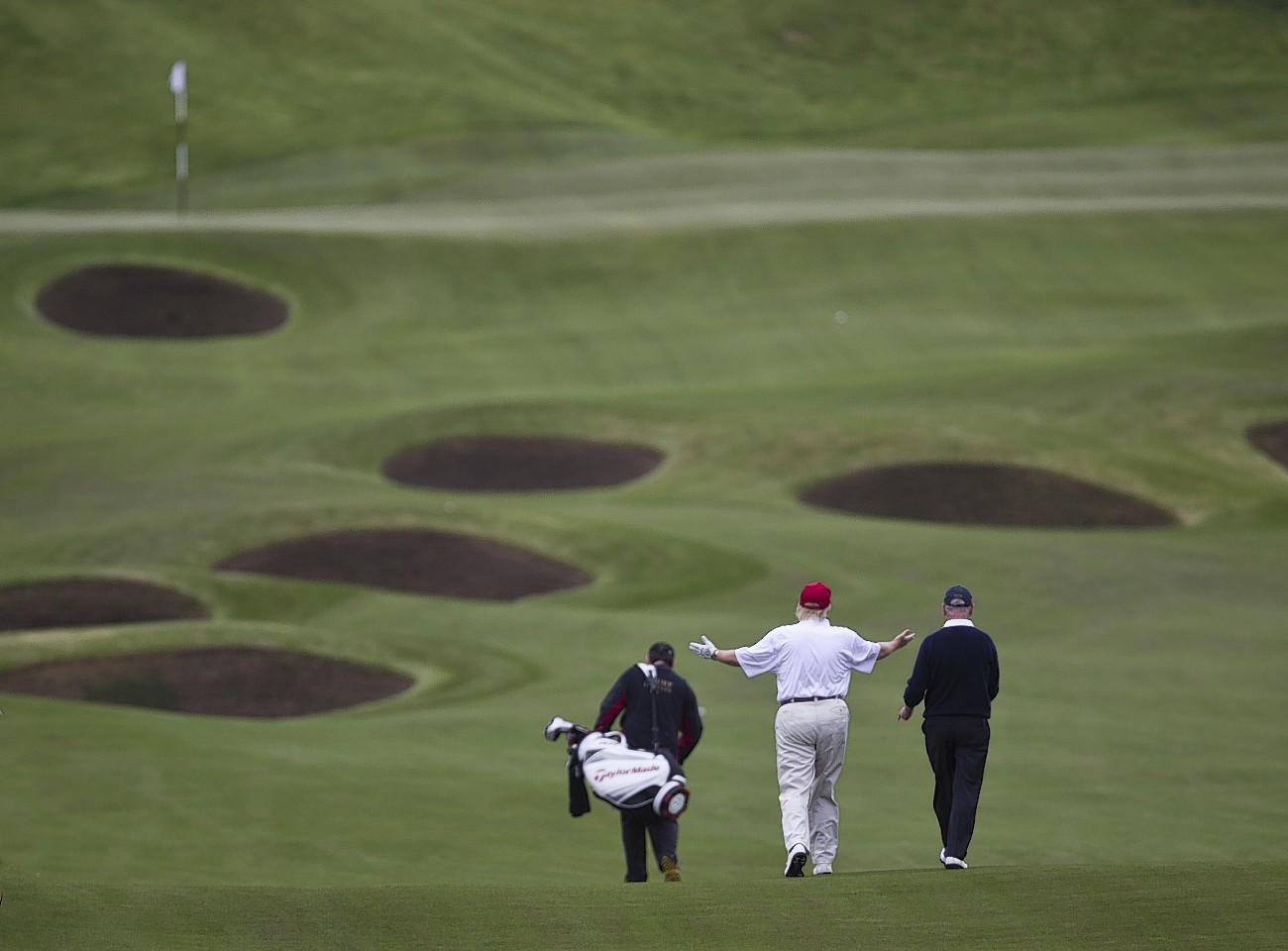 Donald Trump has vowed to never give up on his dream to develop his £750million Menie Estate in Aberdeenshire.
Mr Trump arrived in the north-east aboard his private jet yesterday after visiting the Turnberry course in Ayrshire, which he purchased last month.
The tycoon was met by Colin MacKenzie, chief executive of Aberdeenshire Council, and Aberdeenshire Provost Jill Webster on his arrival at Aberdeen International Airport.
Mr Trump insisted he would be pressing ahead with his plans for Menie – but only if the proposed European Offshore Wind Deployment Centre (EOWDC) in Aberdeen Bay is abandoned.
Speaking to journalists on board his Boeing 757 jet, Mr Trump said: "We look forward to building the second course and everything is ready to go with the clubhouse too – as soon as they stop this terrible charade of these windmills.
"Menie is my baby and I am very proud of it."
The Trump Organisation is appealing against a decision by judges at the Court of Session in February, which upheld plans for an offshore wind energy test centre off the north-east coast.
In the legal ruling, Lord Doherty rejected arguments made by Mr Trump's legal team that the Scottish Government showed "bias" in approving the £230million 11-tubine project.
Plans for a substation at Blackdog, to bring power ashore, were rejected by Aberdeenshire Council last year but the team behind the EOWDC have lodged an appeal which is pending with the Scottish Government.
Vattenfall, the 75% stakeholder in the project, is looking to sell its share and Aberdeen Renewable Energy Group, which holds the remaining stake, handed over the running of the project to Aberdeen City Council, last month.
Mr Trump added: "If the windfarm is approved I will be extremely unhappy and so will the people of Aberdeen.
"Vattenfall has dropped out so it is probably a dead project.
"When it is officially dead we will start work on the clubhouse which will be the finest in golf.
"I don't give up, I never give up.
"These things (wind turbines) are killing Scotland."
Mr Trump will spend a few days in the north-east before travelling to Dubai to oversee his next luxury golf venture.
Aberdeenshire Provost Jill Webster said: "I am very pleased to welcome Mr Trump to Aberdeenshire.
"His golf course has undoubtedly been very successful for tourism in the area.
"We are hopeful of continued investment in Aberdeenshire."
And Mr MacKenzie was also pleased to welcome Mr Trump back to the north-east.
He said: "It is excellent to see Mr Trump back in what we hope is his Scottish home.
"This is a very positive message about his commitment to Menie."