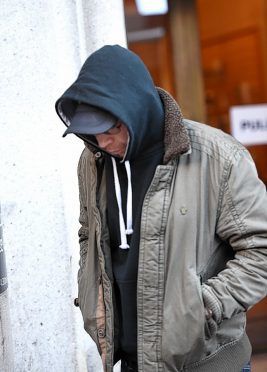 A porn addict has been put on the sex offenders register after downloading hundreds of indecent images of children.
Between May 26, 2009 and July 16, 2014 Thomas Williams downloaded more than 400 obscene pictures on to his external hard drive and laptop computer.
The 31-year-old was eventually caught out after officers received intelligence from the National Online Child Abuse Prevention Agency indicting his IP address had been connected to child pornography.
Yesterday Williams appeared at Aberdeen Sheriff Court for sentence, having previously admitted the offence.
The court heard that once police were made aware of what Williams had been doing they carried out a search of his flat in Aberdeen's Union Grove.
When they recovered his electronic equipment they found the indecent images and he admitted he was the one who downloaded them.
His lawyer, solicitor advocate George Mathers, said his client had an extremely traumatic childhood and as a result now suffered from post-traumatic stress disorder.
He said that as a way of coping Williams, who used to work at a local accountancy firm, would smoke cannabis and drink alcohol.
Mr Mathers said that this then led to his client going online and he soon became addicted to internet pornography.
He said that Williams would download "anything and everything" which is how he ended up with the indecent images of children.
Mr Mathers said that Williams had always taken responsibility for his actions and had resigned from his job as soon as he was made aware of the charges against him.
The court heard he had now moved down to Fife to live with his mother and had since taken steps to address his addictions.
Sentencing Williams, whose address was give as care of George Mathers Solicitor, 23 Adelphi, Aberdeen, Sheriff Annella Cowan said that she considered the case to be one of the least serious she had seen.
Williams was placed under supervision for three years and will remain on the sex offenders register for the same period.