Scores of people, young and old, turned out to watch as Aberdeen's Christmas tree was lit up last night, signalling the start of the festive period.
The annual ceremony was held at the city's Castlegate, with the crowds gathering from about 7pm.
This year's event had added significance as it marked 25 years since Aberdeen was twinned with the Norwegian city of Stavanger.
Prayers were said and carols sang, with musical accompaniment provided by the Salvation Army's brass band.
Then Lord Provost George Adam, along with the deputy mayor of Stavanger, Bjorg Tysdal Moe, took to the stage.
The pair highlighted the 35ft spruce – an annual gift from the Norwegian oil capital – as a symbol of the special bond between the two cities.
They then counted down from 10 with the crowd's help and switched on the lights, leaving the cobbles and granite sparkling under the winter sky.
Ann Kristin Soervaag, a soloist from Stavanger, closed the event with a mass rendition of 'Hark! The Herald Angels Sing' followed by 'We Wish You A Merry Christmas'.
Aberdeen Lord Provost George Adam said: "The city centre feels very festive with the Christmas Tree lighting up the Castlegate.
"It was a pleasure to switch on the lights with the deputy mayor of Stavanger whose city has been so generous in gifting the tree to us again.
"It was a great turnout for the service with traditional Christmas carols and Norwegian music from twin city visitors, and fantastic to see so many people in the city for the start of the festive season.
"As well as a wonderful festive occasion, it was a great opportunity to celebrate 25 years of our twinning partnership
with Stavanger."
Bjorg Tysdal Moe added: "We are so satisfied with being a twin city with Aberdeen, there is so much in common with us both being oil and gas cities.
"Everyone in Stavanger is really proud to have this relationship."
The switch-on was the culmination of a day in which the Granite City was transformed into a winter wonderland.
Union Terrace now hosts the winter village, complete with ice rink, Codona's attractions and a Christmas market.
The village will be open until January 8, and the street will be closed to traffic during this time.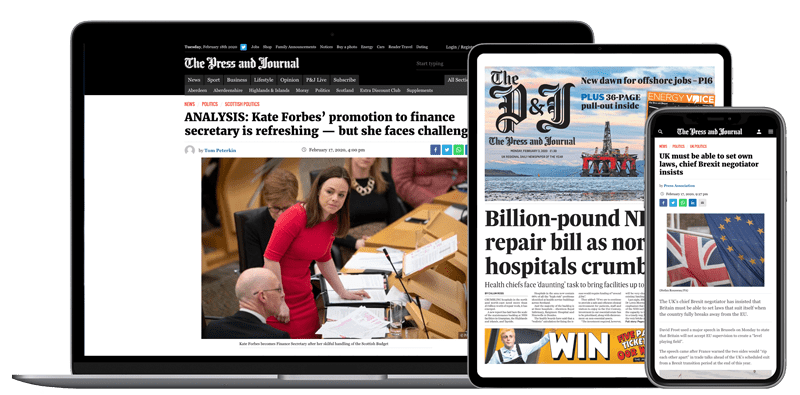 Help support quality local journalism … become a digital subscriber to The Press and Journal
For as little as £5.99 a month you can access all of our content, including Premium articles.
Subscribe