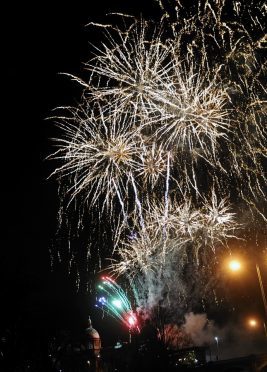 Revellers celebrating the new year in the Granite City are being promised a pyrotechnic treat.
The first ten minutes of 2016 will be marked by a barrage of fireworks being let off from the roof of His Majesty's Theatre.
Preparations for the spectacular show have been going on behind the scenes for the past few weeks.
It is being masterminded by Mark Copland, owner of Inverurie-based Fireworx Scotland, who has been in charge of the new year display in Aberdeen since 2006.
He said: "We planned for one week, carried out preparation for another two, we'll be at His Majesty's Theatre at 10pm on December 31 and will be done by half past midnight.
"The benefit of doing it from HMT is that it can be viewed from all over Scotland, from the city centre, from further north and from Torry."
The night will be a busy one for Mr Copland has he has 24 shows going on as Scotland welcomes in the New Year.
He said: "We've got a lot on including the Stonehaven fireballs, and displays at the Trump golf course and at Pittodrie, Ardoe Hotel and Thainstone."
Aberdeen City Council deputy leader Marie Boulton said the night promised to be one to remember.
She said: "This event will be three times longer than any other going ahead in Scotland, it will be set to music and it will be seen across the whole of Aberdeen.
"The winter festival will be on throughout the day and this will make the whole evening worthwhile.
"Fireworx has a good reputation and has created good nights in the past."