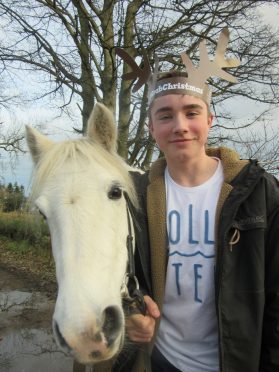 A pony will help get visitors to a north-east castle into the festive spirit this weekend – while also helping raise funds for her new home.
Holly, who belongs to Aberdeen Riding Club, will be the special guest of honour at Drum Castle's Holly Fest on Sunday, where the final advent candles on a giant wreath will be lit.
The club, based in Milltimber, is trying to raise £300,000 for a new premises for their 32 horses and ponies at nearby Anguston.
It would provide a facility with 115 acres of grazing as their current home is to be developed for housing.
Star of their new fundraising campaign is Sid, who helps disabled riders and beginners get confidence in the saddle.
But the popular pony does not like to travel, so Holly will take his place at the Drum Castle event instead.
Drum Castle's manager Alison Burke said: "I was very moved by the story of Sid and his friends trying to raise funds for their new home as I know from experience all the good work that Aberdeen Riding Club undertakes.
"But more than that, it is important that we think of ways in which we maintain our rural landscape and traditions.
"The relocation of Aberdeen Riding Club to Anguston, which was once part of the ancient estate of Drum, will ensure the preservation of our historic rural landscape as over 90% of the land will remain grazing pastoral land."
Sally McCarthy, director of Aberdeen Riding Club, said: "Unfortunately, although Sid loves meeting people, he does not like to travel, however, Sid's special friend is called Holly and she seemed the ideal horse to come and meet the visitors to Holly Fest."
The event will run from 11am-4pm.