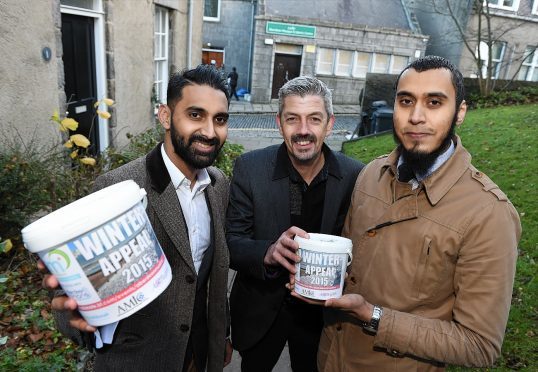 The Muslim community in Aberdeen has banded together to help feed, clothe and shelter the city's homeless this winter.
Aberdeen Muslims, a community organisation representing those of the Islamic faith across the Granite City, has entered into partnership with local homelessness charity Aberdeen Cyrenians to raise a targeted £5,000 for those sleeping rough this winter.
And, although the appeal has only been active since December 2, the north-east Islamic community has already raised more than £2,000, which will help pay for hundreds of meals for those in need.
Sumon Hoque, one of the organisers of the appeal, said that, although fundraising initiatives for the local community are conducted every December by the estimated 5,000 Muslims in Aberdeen, he feels that this year's effort is especially poignant due to the recent surge in resentment of Muslims across the country.
Mr Hoque said: "Hate crime has gone up across Scotland so it's important, from our perspective, that the wider community knows that the Muslim people generally are very, very caring.
"Charity is irrelevant of a person's faith or background – if a person needs help, it is a Muslim's duty to help them, that is one of the Pillars of Islam.
"We don't just look after our own, we care about everyone, and that's something we want to shout about.
"This initiative will be a fantastic opportunity for all cultures to join together and underline the great togetherness there is in the north-east."
The Aberdeen Cyrenians operate the only facility in Aberdeen where a homeless person can eat, have a shower, or wash their clothes, and all the funds raised by Aberdeen Muslims will assist the charity in carrying out their life-changing work.
Scott Baxter, deputy chief executive of Aberdeen Cyrenians, said: "The number of people that are using this service has increased by 100% this winter compared to last year, whilst we are faced with more cuts in funding.
"It is a great blessing that the Muslim community has stepped in at the right time and united together to help us deal with this funding crisis."
Those wishing to support the appeal can visit www.aberdeenmuslims.org