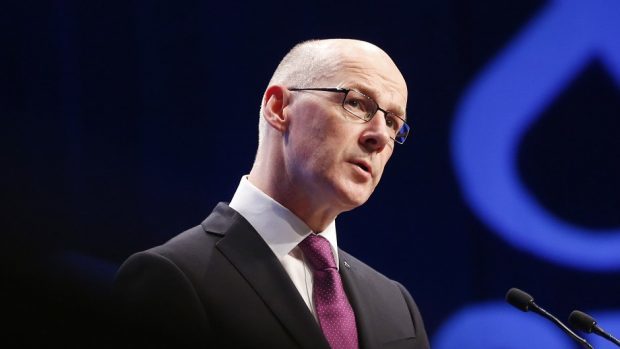 John Swinney has declined to outline a timeline for Aberdeen's much anticipated multi-billion pound city deal.
The Finance Secretary said he could not give a "definitive" answer on when the £2.9 billion bid would progress, but insisted that the Scottish Government was fully backing the deal.
The SNP minister was facing questions from opposition politicians on the progress of the City Region Deal, with pressure mounting on Mr Swinney to make a commitment to the bid in his budget statement next week.
North East MSP Alison McInnes said support for the deal – which kicked-off when Aberdeen City and Aberdeenshire councils submitted a statement of intent in September – was particularly important after George Osborne controversially dumped the billion pound carbon capture and storage scheme, for which Peterhead was a frontrunner.
She said: "In the Chancellor's spending review he referenced the ongoing negotiations on the Aberdeen City Region Deal, which was welcome.
"But he then went on to destroy the future of one of the north-east's key projects, the proposed carbon capture and storage scheme.
"Given the importance of the north-east to Scotland's economy, the Finance Secretary must make sure he does not undermine the various strands of the city region deal in his upcoming budget decision."
Mr Swinney said the Scottish Government fully supported the deal for Aberdeen and that it was working closely with the UK Government to bring it to fruition.
But, when asked by Lewis Macdonald MSP when he anticipated making a decision on the plans, he said he could not answer.
Mr Swinney told the Scottish Parliament: "I cannot give a definitive (timeline for the) decision.
"These are joint matters to be pursued with the United Kingdom government and I think it is best that we take these issues forward in a spirit of partnership and collaboration and that is what we are trying to do.
"But we will make sure that progress is timely and any announcement is made as quickly as possible."
He added: "The government is very supportive and sympathetic towards the Aberdeen City Deal and we are working constructively with the two councils to take this forward and also with the local business community."