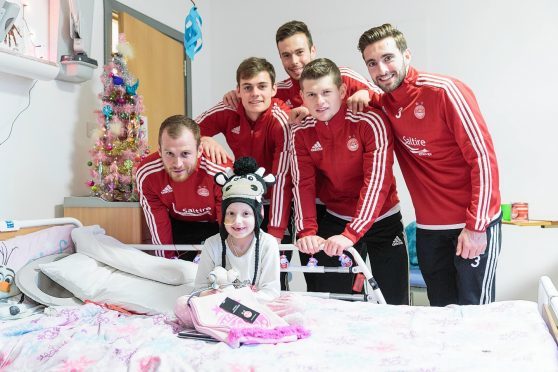 Dons players brought smiles to the faces of sick children yesterday when they made a surprise festive visit to the city's hospital.
The Aberdeen FC team – including Adam Rooney, Ash Taylor, Mark Reynolds and Graeme Shinnie – turned up at the Royal Aberdeen Children's Hospital (RACH) laden with Christmas gifts for patients.
Little Jack Edmond, who was dressed up in his first football strip as he attended a physiotherapy appointment with his parents Nicola, 30, and 38-year-old Bruce Edmond, was introduced to the players as they arrived.
The eight-month-old was diagnosed with a metabolic condition after he was born.
Another patient, seven-year-old Macy Gordon was recently admitted to the hospital for cancer treatment.
She was diagnosed with a malignant rhabdoid tumour – an aggressive and rare form of cancer – in June.
Her mother Pamela Corr, 35, said she took her daughter to the doctor after bruises appeared on her chest and school staff noticed she was losing her appetite.
Tests later revealed that she had a cancerous growth in her abdomen.
The schoolgirl, who lives in the Torry area of the city, is currently undergoing intense bouts of chemotherapy.
Her mother said: "We call Macy our flashlight because her spirit is amazing. She keeps the nurses on her toes – nothing gets her down.
"I think it's brilliant what the players do for the hospital.
"Macy is normally quite shy so it was great to see her interact with them.
"I think it really made her day. Some of her friends will be really jealous."
Aberdeen captain Ryan Jack said the players enjoyed cheering up the children.
He said: "It's good to see the lift that it gives everyone in the wards. You just see the smiles on the kids faces and for us it's our pleasure that we come up and make the kids happy just before Christmas.
"It's sad and it puts things in perspective in life. We're fortunate that we're going to be enjoying our Christmas at home with our families but for some kids they have to stay in hospital.
"Hopefully us coming up put a smile on their faces."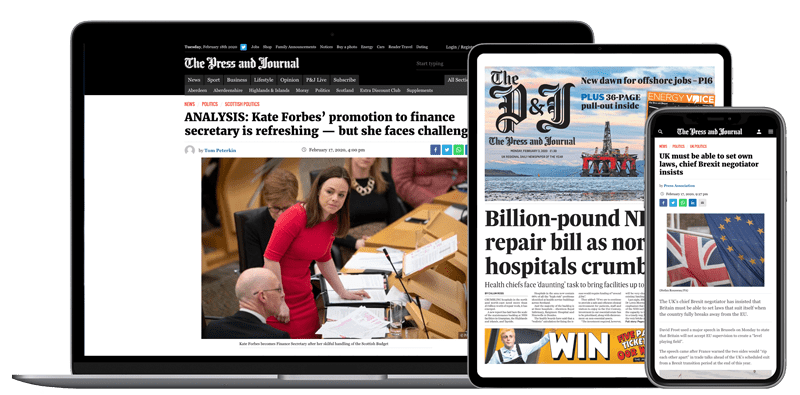 Help support quality local journalism … become a digital subscriber to The Press and Journal
For as little as £5.99 a month you can access all of our content, including Premium articles.
Subscribe