Aberdeen's Christmas Village ice rink has surely been the scene of many a spectacular stumble and fall over the festive period.
But one budding skater transformed the rink into a world-class stage yesterday with a special performance of his take on the classic ballet, Swan Lake.
Ruaridh Fisher, from Leylodge, Inverurie, is currently ranked the under 19 number one in British Figure Skating in Scotland, and fourth in the UK.
The 17-year-old has already been hailed as the John Curry of his generation – who within two months won the European, Olympic and world figure skating titles – and has been tipped for global stardom.
Earlier this year, he clinched bronze at the British Figure Skating Championships and next he hopes to pit himself against the world's best in North America, which could lead to competing in the European and World Championships and – ultimately – the 2018/2022 Olympics.
The sixth-year-pupil at Robert Gordon's College is currently looking for sponsorship to help him meet the costs of top level competition for the year ahead.
And yesterday, he took to the ice in front of a captivated audience to show the city what he has got.
His proud parents, Sylvia and Geoff Fisher, said it was clear from a young age that Ruaridh had a very special talent.
"If you've got the determination and the focus and the desire then you can be world class – and he does," his father said.
At the age of just six, Ruaridh took his first wobbly step on the ice, and has since spent countless hours training from the crack of dawn to get to the highest standard.
For the past two years he has juggled studying for his Higher exams – which he passed with A's – along with intense training.
But the determined young skater would not have it any other way.
"Skating is in my blood – my grandparents were speed skaters and my auntie is a skater too," he said.
"The British Championships were the highlight of my season and I was elated to finish on the podium. It is the pinnacle of the national programme and the basis for future Team GB selection.
"To get to the next level, I need to train like a professional full time athlete and compete in the US or Canada to get more exposure while competing against the Worlds' elite at internationals and gain valuable experience from like-minded competitors and coaches.
"If you want something badly enough, you'll do whatever it takes to get there."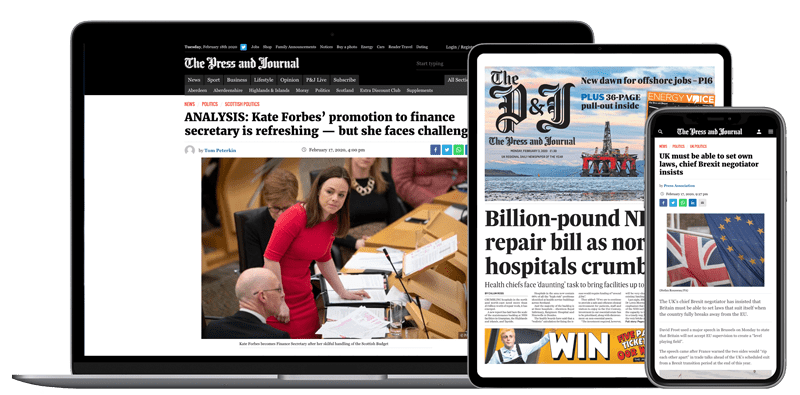 Help support quality local journalism … become a digital subscriber to The Press and Journal
For as little as £5.99 a month you can access all of our content, including Premium articles.
Subscribe