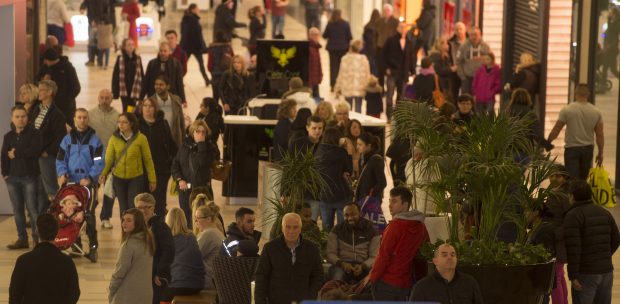 Shoppers queued for hours to snap-up the top bargains as retailers revelled in a post-Christmas sales boom.
Malls were mobbed as north-east shoppers joined in Scotland's biggest ever spending spree.
Thousands of people descended on Aberdeen's Union Square, Trinity and Bon Accord and St Nicholas centres as an incredible £260million was spent nationwide.
Queues formed before shops had even opened their doors yesterday and on Boxing Day, and car parks were full to bursting.
Six hundred people waited outside the Next store in the Bon Accord Centre from 4.30am on Boxing Day, and shoppers swarmed to the John Lewis shop yesterday.
Craig Stevenson, manager of the Bon Accord and St Nicholas Shopping Centres, said last night: "Boxing Day was incredibly busy for us, today was equally busy but there was a slightly later start.
"We had John Lewis sales starting today, a lot of people went out today also due to the milder weather. It was busy all day.
"It has been incredibly good, the car park has been full all day both days.
"I think all of the shops had a good weekend, the ones that stick out are Next on Boxing Day, which had a phenomenal day, and John Lewis was probably the busiest today.
"I think we kind of expect to be busy right up until Hogmanay, after that there is another burst after new year and then it quietens down.
"Next opened at 6am on Boxing Day and we opened the car park at 4am, and there just over 600 people queuing. We opened the doors to the centre between 4.30am and 5am.
"There are whole families who come out on Boxing Day morning, it is obviously a routine."
He added: "Things have been good, there is a buzz in the mall. People seem to like shopping here at this time of the year."
There were also queues outside shops in Aberdeen's Union Square on Boxing Day morning before the mall opened its doors, with jewellery and other fashion items the most popular things on sale.
Speaking last night, general manager for Union Square, Ryan Manson, said: "As ever, Boxing Day was a very busy time for Union Square, with queues forming before retailers opened as customers looked to take advantage of the fantastic offers available.
"Today has been no different with shoppers turning out again in force to enjoy our extended trading hours and grab some fantastic post-Christmas bargains throughout the day, as well as our restaurant and cinema offerings.
"With lots of deals and discounts still to be had, we look forward to welcoming customers to Union Square in the run-up to the new year and beyond."
The centre estimated that on Boxing day alone it had 57.000 customers, 1,200 burgers were scoffed and 10,000 coffees were served.
Duty manager at the Trinity Centre, Philip Stanley, said its car park had been full all weekend, with HMV one of its busiest stores.
He added: "It has been steady, it was looking quite busy, the car park has been full and everything seems to be good, there's plenty of folk going about.
"From our point of view, it is nice to see the centre busy, it gives you a nice feeling. On Boxing Day, we were busy from when we started up. The car park filled up very quickly."