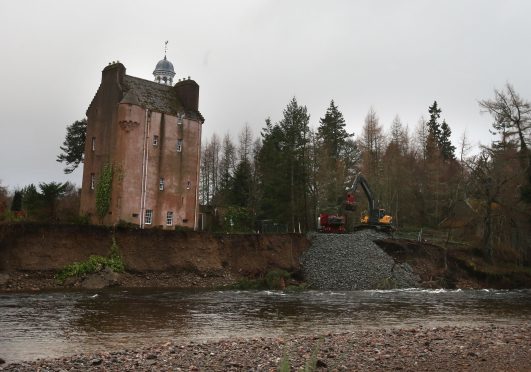 Work continues to secure the future of a 16th century flood stricken castle today
Abergeldie Castle, in the heart of Royal Deeside, was left teetering on the brink of destruction after devastating floods swept through the region last week.
The Baron of Abergeldie, John Gordon, and his wife sought refuge at a neighbours after a 500 yard stretch of embankment next to the castle was swallowed up by the swollen River Dee.
The baron, a neighbour to the Queen's Balmoral Estate, returned to his home briefly yesterday  to survey shoring up work that is ongoing.
Tonnes of rock have been placed on the wrecked riverbank in an attempt to save the A-listed tower from destruction in the wake of Storm Frank.
Meanwhile the Duke of Rothesay, who is staying at Birkhall on the Balmoral Estate at the moment, has personally intervened to help others affected by the floods.
One of Prince Charles's charities is appealing to the public to create a relief fund for those whose homes and possessions have been destroyed.
Last month The Princes Countryside Fund donated 40,000 pounds to rural businesses and communities affected by Storm Desmond.
Now the charity is urging people to help create a flood relief fund following Storm Frank.
The move came as work started yesterday to try and reconnect the village of Braemar.
A 100 yard section of the A93 road connecting the rural community to Ballater was washed away during Wednesday's high water.
The Invercauld Bridge further upstream on the same road was also badly damaged by surging water.
Workmen from Aberdeenshire Council also started work at the bridge yesterday in a bid to get village life back on track.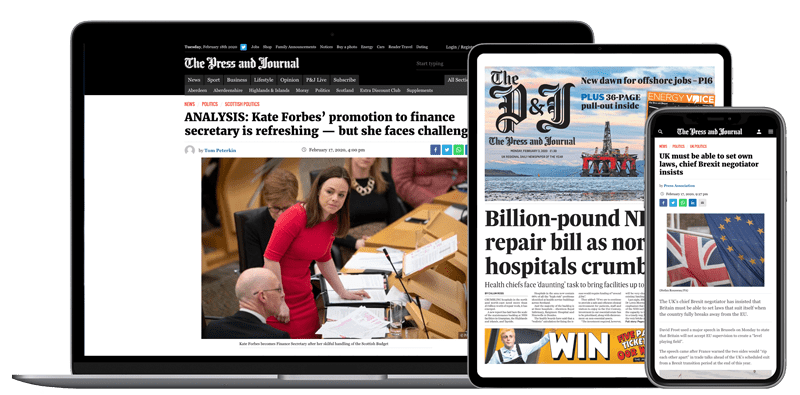 Help support quality local journalism … become a digital subscriber to The Press and Journal
For as little as £5.99 a month you can access all of our content, including Premium articles.
Subscribe