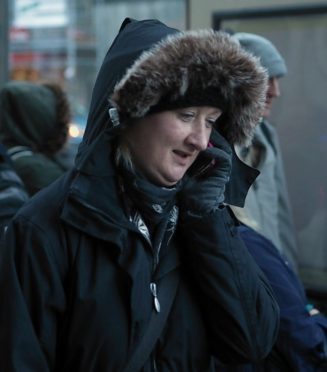 A woman who got behind the wheel while five times the drink-drive limit with a baby in the back of her car has been spared jail.
Repeat offender Marion Stephen was warned she was facing a prison sentence when she first appeared at Aberdeen Sheriff Court and admitted driving with excess alcohol on one of the north-east's busiest roads.
And although she was told she had "put the lives of the child and other road users at risk", a sheriff allowed her to keep her liberty yesterday.
The 33-year-old was caught on the Huntly-Inverurie stretch of the A96 after police received reports of a car being driven erratically.
When officers went to look for the blue Land Rover they found it parked on a grass verge near Bogside.
As they approached the vehicle they could see Stephen trying to get out of the driver's side, and when they started to talk to her they suspected she had been drinking.
A roadside breath test showed she had 115 microgrammes of alcohol in 100 millilitres of breath. The legal limit is 22mcg.
When officers went to check the car they found an 11-month-old baby strapped into the back seat.
The court heard yesterday that the reading from her first drink-driving conviction was 73mcg of alcohol in 100ml of breath.
Her agent, solicitor Iain Hingston, said his client had a "problem" with alcohol which she had now started to address.
He said: "This has been a catalyst for change in her, in her lifestyle and in her ability to open up to professionals about the problems that she has.
"It's hard to express how ashamed, angry and embarrassed she is about this."
Before passing sentence on Stephen, of 5 Paradise Road, Kemnay, Sheriff William Taylor said: "What worries me about this is that there was a child in the car and this woman knew exactly what she was doing."
The court previously heard that Stephen had a "personal matter" she had needed to attend to which was why she decided to drive.
Sheriff Taylor added: "There were various different options to deal with the matter but still she continued to drive with a child in the car endangering other people on the road and the child."
The sheriff previously said he thought it was "appalling for a drunk woman to get behind the wheel with an 11-month old in the car" and warned that the most likely outcome for her, given her previous conviction, was a custodial sentence.
However, Sheriff Taylor accepted that she had started to take steps to address the issues in her life.
He was also told she would likely lose her job as an office manager if she were sent to prison.
Stephen was ordered to carry out 100 hours of unpaid work within the next six months and placed under the supervision of the social work department for a year.
She was also disqualified from driving for three years.