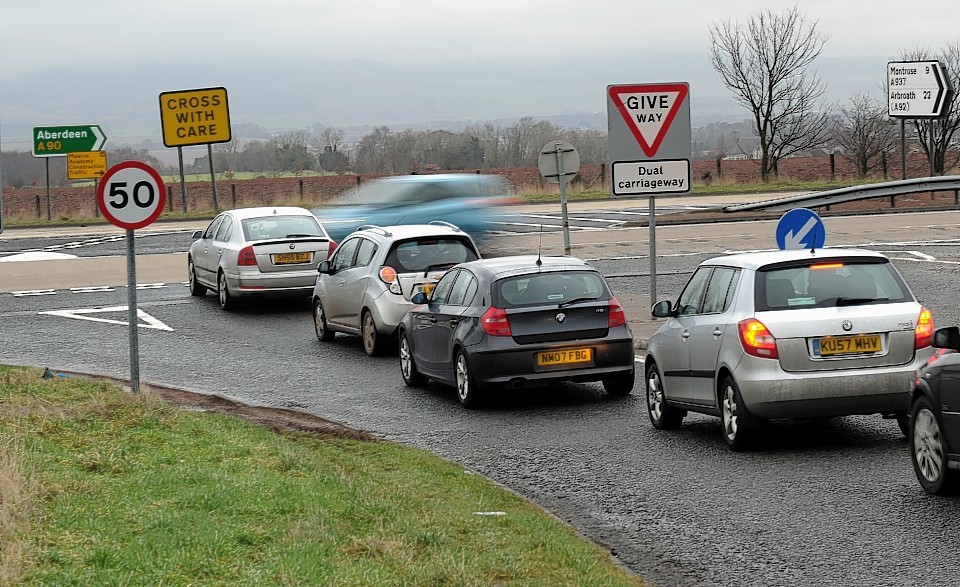 Councillors have been asked to approve plans for a 300-home Aberdeenshire development – despite concerns it could impact on nearby danger junctions.
The proposal by Kirkwood Homes for 310 houses on land at Conveth Mains, Laurencekirk, will be discussed by Aberdeenshire Council's Kincardine and Mearns area committee on Tuesday.
Council officers have recommended it be approved despite concerns around the impact on the neighbouring north and south junctions onto the A90 Dundee to Aberdeen road.
Locals have been calling for action in the form of flyovers or grade-seperated junctions at both spots where the A937 Laurencekirk to Marykirk road meets the A90 – particularly the south junction – for years.
A new roundabout will also be built as part of the application, with two objections to the scheme, including from Mearns Community Council, also received.
The group is concerned about the impact on the A90 junction north of the town and increased traffic congestion on other locals roads if it goes ahead.
Both Transport Scotland and the council's infrastructure service initially objected to the plans due to the A90 concerns.
The council's head of infrastructure services, Stephen Archer, said there are "manageable transport impacts" on the north junction, advising road changes would need to be in place before the occupation of 100 houses.
Mr Archer added: "Given the limited impact of this proposal on the south junction as well as the manageable up to a point, impact upon the north junction, a proportional level of development can be allowed to proceed.
"This approach can be supported and the full 310 houses approved with the caveat that after 200 houses are completed that a far more in depth review of the transport system is carried out in order to facilitate the wider scheme."
He added the developer is not "in a position to provide" the improvements to either junction.
Land director of Kirkwood Homes, Allan Rae, said: "The Conveth Mains proposal provides a real opportunity to provide a wide range of new housing in the town.
"We are fully aware of the active and well supported campaign that has been on-going for over a decade regarding the current safety and capacity concerns at the south junction and we have therefore placed great importance on delivering the appropriate infrastructure needed to support the phased development of the site."