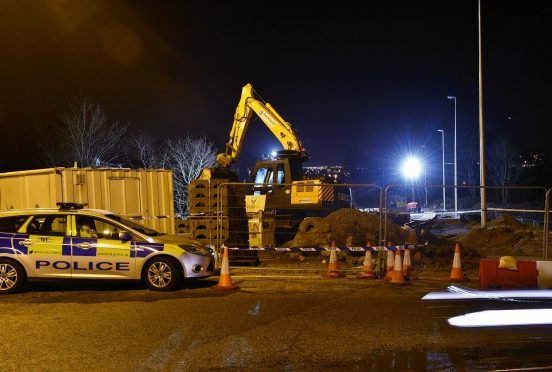 A man died last night after an industrial accident at the site of the upcoming Third Don Crossing in Aberdeen.
Police and ambulance teams were called to the scene of the incident at the construction site, north of the River Don in Danestone, shortly after 4.45pm but Ian Walker, 58, was pronounced dead at the scene, close to Fairview Street.
The location of the man's death at the Balfour Beatty construction site, near Fairview Street, was cordoned off by police tape.
A police spokesman said that the Health and Safety Executive (HSE) has been informed of the man's death.
The spokesman said: "Police Scotland can announce that a man has died as a result of an accident at a construction site in Aberdeen.
"The man was pronounced dead at the scene."
A spokeswoman for the HSE confirmed that an investigation will be carried out as soon as possible.
Tillydrone councillor Ross Grant said: "It is shocking news and I am deeply saddened to hear of the death of the individual who was killed.
"My thoughts and deepest sympathies go out to the man's family, friends and work colleagues at this time.
"These workers work very closely with one another, and have of course been at this site for quite some time.
"We will be liaising with the contractors to make sure that his work colleagues are being offered any support that they require, and certainly that the family is being suitably supported as well."
An Aberdeen City Council spokeswoman said: "We offer our deepest condolences to the family. We are working with the police and HSE to establish what happened and so cannot comment any further."
The £18million Third Don Crossing project, which commenced construction in August 2014, will provide motorists with an additional infrastructure link across the River Don between Grandholm on the north bank, and Tillydrone on the south.
Construction is nearly complete, and it could open to the public as early as March.