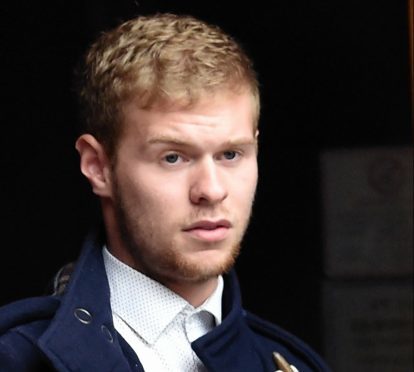 An Aberdeen man had sex with an underage schoolgirl twice after meeting her on Tinder, a court has heard.
Peter Reid is accused of stalking two women and carrying out a campaign of abuse against them.
He is also alleged to have had sex with a 15-year-old girl as well as sending her an image of an indecent nature.
Reid, 21, denies the four charges against him and has gone on trial at Aberdeen Sheriff Court.
Yesterday the court heard evidence from the schoolgirl, who is now 17.
Giving evidence from behind a screen she said she met Reid, of 58 Sunnybank Road, Aberdeen, through the dating app in April 2014 and the pair soon started talking over a messaging service.
The teen said initially when Reid made contact with her he believed that she was 19 from the information she had given on her dating profile.
However, she said that once they started chatting she told him immediately how old she really was.
The girl, who can not be named for legal reasons, said that despite knowing her age he proceeded to have sex with her on two occasions at his city flat.
The court was shown a series of explicit messages which she claimed were sent by Reid to her where he told her how he liked to be in control.
Messages she claimed she sent to him were also shown to the jury, which stated she was only 15 and that she was still at school.
One message read: "Well you see the awkward thing is I'm only 15 so I'm still at school and that thing says I'm 19 because I don't know how to change it."
Representing Reid, advocate David Moggach said when his client met the teen she was "well dressed" and wearing makeup. He put it to the girl that she then told him that she was older.
The girl replied: "I did not lie about my age. He knew how old I was from the day I met him."
Reid is also alleged to have threatened to kill one of his teenage lovers and dump her body in a school bin.
Prosecutors claim he intentionally shut a door on the fingers of a former girlfriend after throwing her clothes into the street – leaving her stranded outside in just her underwear.
Reid is also said to pushed another girl into a bath of hot water. The four charges allegedly happened between March 2013 and December 2014.
The trial, before Sheriff Annella Cowan, continues.