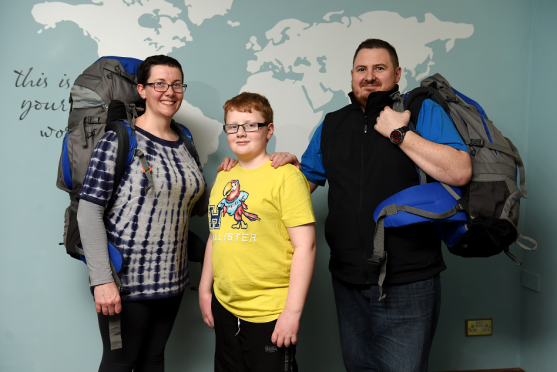 In common with many other people across the north-east, Alex Mennie was devastated when he lost his job in the oil and gas industry.
But the Altens dad of two decided he wasn't going to let the downturn in the North Sea get the better of him and his family, and now, after months of planning, the Mennies have embarked on a once-in-a-lifetime adventure.
For the next year, Mr Mennie and his wife Lynne, as well as their two sons Sam, 14, and Connor, 12, will circumnavigate the globe, working on organic farms and immersing themselves in exotic cultures.
Mr Mennie, 44, explained that he and his wife came to their huge decision surprisingly soon after he received the dreaded news.
Mr Mennie said: "More and more people in my workplace were being told to be prepared for redundancy, so it really felt like a matter of time.
"I was completely devastated when I heard from HR that I wasn't going to be kept on. I had no idea what I was going to tell Lynne, but she was so supportive."
After hearing the news, the couple met in the kitchen and formulated a plan.
Mrs Mennie, a researcher at Aberdeen University, was at the time able to take on a voluntary severance package, and, after just 20 minutes, the couple decided to rent out their house, take their sons out of school and set off on their journey with the severance cash.
Now on day two of their trip, the Mennies are currently staying at an artist's residence close to San Antonio, and are preparing to jet off to explore Peru, before touring the rest of South America, Asia, Australia and New Zealand.
And, as well as sharing the experience of a lifetime with his wife and kids, Mr Mennie hopes his story can show others in similar situations that life can still go on after redundancy.
Mr Mennie said: "It felt like my future was in tatters, but if you look at it as an opportunity to make a positive change, you can find a silver lining."