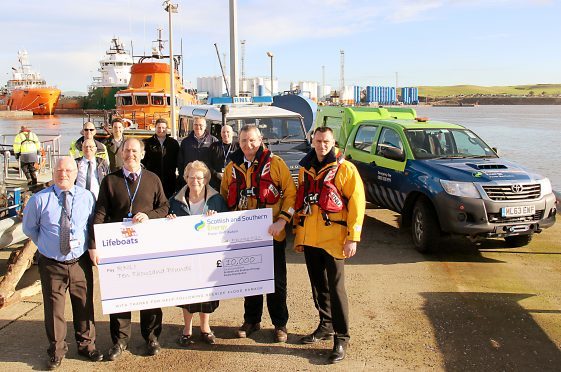 Local lifeboat volunteers have received a five-figure donation for their contribution to the flood recovery effort following the severe weather which hit upper Deeside at the start of the year.
The north-east branch of the RNLI were given £10,000 by Scottish Hydro Electric Power Distribution after both organisations worked together to restore power to customers across affected regions.
In the days following the flood, the company's engineers battled to restore power to customers and rebuild 22 spans of overhead line between Aboyne, Ballater and Braemar, including four crossings of the Dee.
An appeal for assistance was answered by RNLI volunteers from the Aberdeen lifeboat station whose efforts enabled new specially-strengthened overhead lines to be strung across the river while it remained in spate.
Shepd's regional manager for the north-east, Neil Wilson, said: "Without the local RNLI's support, it could have taken much longer to safely rebuild the river crossings which had been swept away by the floods.
"Over successive days, they helped rebuild power lines, repair telephone links and provided whatever support they could to the emergency response.
"The part played by RNLI volunteers is one example of the spirit with which the whole community responded to the emergency.
"Their specialist skills and resources were given freely in support of the recovery effort.
"So we want to make a small contribution to their work in return, recognising the big difference they made for our customers.
"We have seen first-hand their commitment and resourcefulness, so I don't doubt the money will be put to good use."
Local RNLI operations manager, Bill Deans, said: "Volunteers in Aberdeen were keen to help the local community during the bad weather.
"We are very grateful for this financial contribution which will help us continue our long tradition of helping people in need, whether at sea or in more unusual circumstances such as these.
"The crew deal with a very varied workload and they receive the best possible training to help them to help others."