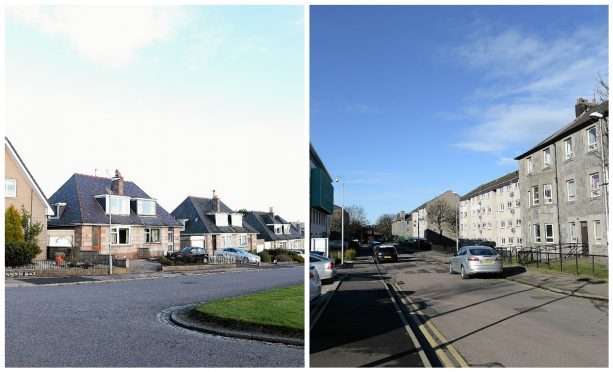 Shock new figures have revealed a massive gap in the life expectancy of people in two Aberdeen neighbourhoods just four miles apart.
A new council report shows that residents in the affluent community of Mannofield live on average nearly 17 years longer than those in the poorer Woodside area of the city.
Factors cited include the higher chance of emergency hospital treatment, lower breast feeding rates and lower rates of physical activity in deprived areas.
The report says: "Poverty has a direct impact on health outcomes and in Aberdeen is a contributing factor to life expectancy in Woodside being 16.7 years less than in Mannofield."
Last night, the chief executive of charity Community Food Initiatives North-East (CFINE) said low life expectancy was a "symptom" of poverty.
Dave Simmers, who has been a community worker in the Woodside area since 1976, said: "It's a sad situation and unfortunately it is getting worse and worse across the city.
"We have known for a long time that poverty decreases life expectancy but this figure is surprising.
"We deal with people who don't have cookers, or even microwaves, and may just have a kettle and a few utensils.
"For me it's obvious – things that limit your life expectancy like alcohol or drug dependency are symptoms of the economic situation people find themselves in.
"Things like diet and education are also very influential and living in deprivation can lead to a sort of spiral in all these factors."
Public health lead for the Aberdeen Health Partnership, Linda Smith, said the factors behind the findings were "very complex" and "negative lifestyle" issues played a part.
She said: "A lot of it is about people's lack of opportunities and life chances.
"It is a multifactorial issue and we have to look at it from a number of points of view."
But last night, Labour councillor Barney Crockett said the authority was aiming to tackle the gap through a three-pronged approach of "education, housing and health".
Mr Crockett, who sits on the Citizens Advice Bureau management committee, said: "It's well documented, and I know this with my background as a teacher, that education has a big impact on pulling families out of poverty.
"Similarly, areas with better health provision also do better as GPs can sometimes avoid working in more deprived areas.
"We've also known for a long time that high private sector rents in the city are putting people in poverty which is why we are committed to bringing in more social and affordable housing.
"Aberdeen has been historically low funded because we have low levels of overall deprivation – but there are pockets of poverty.
"I think in some of these areas, like Woodside, there are historic linkages to poverty and almost a spiral."
Aberdeen Central SNP MSP Kevin Stewart said that the local authority and Holyrood's hands were somewhat tied in tackling the problem.
He said: "There is nothing worse than poverty in the midst of plenty.
"We have a large wealth gap but unfortunately the vast majority of what can be done to mitigate this lies with the Westminster government.
"Their austerity attack is nowhere near over and it's not only on those out of work but also people working hard.
"This ever-increasing gap needs to be resolved at the earliest opportunity."
A short history: Mannofield and Woodside
Woodside and Mannofield are separated by just four miles, but could almost be in different cities.
Figures from 2005-2009 – the latest available until the new council paper – showed a Mannofield man could expect to live to 83.3 years while his Woodside counterpart would die aged 68.
In the same period, a Mannofield woman would live to 86.6 and a Woodside woman 73.7 – and these differences have since increased.
Mannofield, on the city's western edge, is an expanding commuter suburb popular with oil workers and renowned for multi-million pound homes.
The area is served by primary schools like Airyhall Primary School, Broomhill Primary School and Cults Primary School.
Secondary education is provided by leading schools Cults Academy, Harlaw Academy and Hazlehead Academy.
It enjoys an unemployment rate of just 1% as of August last year, half that of Woodside on 2.1%.
Woodside still has a somewhat different identity to the city as it was a separate settlement until 1891.
The River Don runs through Woodside, and mills were built on the banks providing employment for the local population and leading to the creation of some of the area's beautiful churches.
However the area suffered with the decline of industry and is now considered one of Aberdeen's five "regeneration areas" along side Torry, Tillydrone, Mastrick and Northfield.
The Press and Journal reported on February 1, 1975: "For between 1841 and 1861 there had been a textile boom and a disastrous slump affecting the livelihoods of thousands of people.
"In four decades the old Woodside has been at first encircled by new council housing, then torn apart down the middle, but enough survives to delight the sense of tradition and continuity."
Councillor Copland has his say
The Woodside area of the city that I represent has faced a number of challenges that may explain the lower life expectancy.
Poverty and shorter life expectancy go hand-in-hand for a number of reasons. When you don't have enough money you can struggle to buy and cook nutritious food, or to heat your home properly, or take part in sports and other social activities. This inevitably takes a toll on people's physical and mental health.
The area has always had issues with poverty, with the Fersands and Printfield estates being built in the 1930s to address housing issues back then.
More recently the area has been hit hard by the UK Government's welfare cuts with the young, the disabled and the working poor bearing the brunt. It's contributed to a situation where many of these folk live in fuel poverty despite living in the energy capital of Europe.
But there is work being done to address this. The Scottish Government has been able to mitigate some of the welfare reforms and charities like Instant Neighbour have helped support families who are struggling to get by.
There is also a great community spirit in Woodside, evidenced by the newly formed Woodside Community Council and the great work done by the Fersands and Printfield projects and local volunteers to make life better for the residents.
Woodside may be one of the poorer areas of the city but it is trying to pull itself up by the bootstraps. The area needs and deserves support to continue the good work already being done.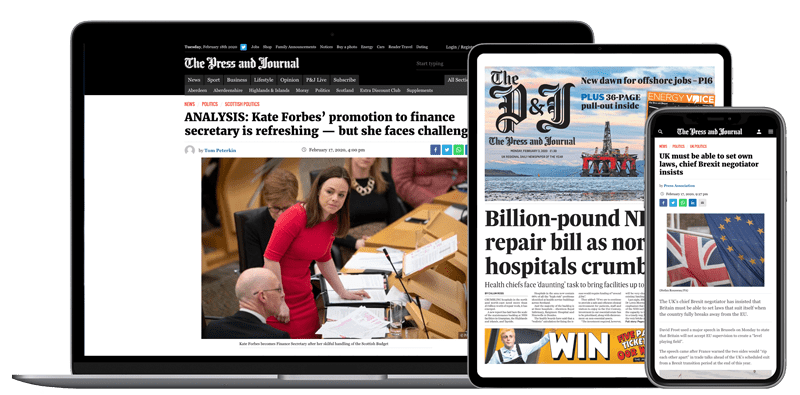 Help support quality local journalism … become a digital subscriber to The Press and Journal
For as little as £5.99 a month you can access all of our content, including Premium articles.
Subscribe