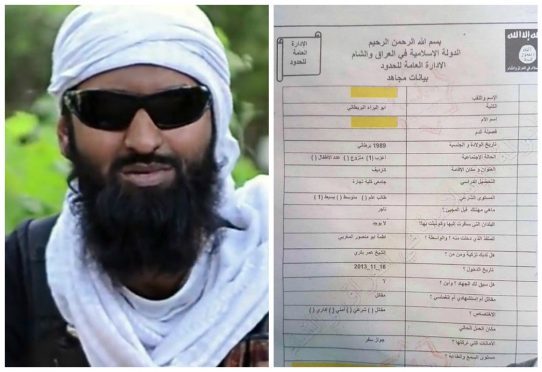 The childhood friend of an Aberdeen-born Islamic State fighter, who was killed by a drone strike last year, has said the group brainwash their recruits by making them go through a normal application process.
Abdul Raqib Amin's application form was among hundreds of confidential files belonging to the group which were leaked last week.
The document, which was written in Arabic, asked the applicant if they wanted to become a suicide bomber, how they planned to travel to the country, and the extent of their knowledge of Islam.
Amin's form even included a reference to the radical cleric, Omar Bakri, who has been linked to Michael Adebolajo and Michael Adebolawe, who brutally murdered soldier Lee Rigby in London in 2013.
The 26-year-old ex-pupil at St Machar Academy, arrived with his family, aged 10, in the Froghall area of Aberdeen from Bangladesh.
He later moved to Leicester as an adult where it is believed he first encountered the extremists who were instrumental in his radicalisation.
Last night his friend, and fellow pupil, Stephen Marvin, said he was shocked to learn that Amin had potential links to the Rigby murderers.
And he also said he believed the application form, and other aspects of the group's training, was designed to trick prospective recruits into believing what they were doing was normal.
Mr Marvin added: "I think it makes it a bit more normal if they (potential recruits) are doing these things and if they are under the impression they can leave whenever they want.
"I don't think they fully realise they have been brainwashed, they are taught that they are part of a family – Raqib told me two of his brothers had been killed over there, but they weren't his actual brothers.
"I never thought he had been connected to the Lee Rigby murderers, that was obviously horrible and disgusting."
The form, which is divided into 23 sections, also detailed how Amin was able to join the group by sneaking into Syria through a refugee camp on the country's Turkish border.
He also described his religious education as "basic".
In August last year, Prime Minister David Cameron announced Amin had been killed by a precision drone strike, along with Cardiff-born Reyaad Khan.
'The job application'
Abdul Raqib Amin did not want to be a martyr for Islamic State or go undercover – he wanted to be a fighter.
A copy of his job application has revealed that his recommendation came from Shikh Omer Bekri, an Islamist militant leader.
Amin, who was killed in a drone strike last year, listed his specialities as fighter, religious, security and administrator.
The man, who was educated at Aberdeen's St Machar's Academy, declined to give a name, address for correspondence and current location, but gave a nickname of 'Abu Bara', – the British.
When asked for qualifications, he mentioned business school and said his occupation was as a dealer before signing up for the Islamic State.
Asked to pick from advanced, medium and basic status for his level of religious knowledge, he opted for the latter.
Amin, who was 23 at the time in 2013, wrote that he had never been a jihadist before and had never visited any other countries.
The only valuable he wrote that he still had in his possession was his passport.
Trip to Bangladesh sparked Amin's faith
Amin's friend, Stephen Marvin, said it was a teenage trip to Bangladesh which sparked his late colleague's religious faith.
Mr Marvin said: "He was never a great Muslim, to be honest.
"When we were in school, we used to pass him Milky Ways under the desk when he was supposed to be fasting.
"When he was about 14, he crashed a car and his dad sent him back to Bangladesh to try and teach him respect.
"When he came back, he was wearing the robe and had the big beard, and that was when he was just 16."
Amin left Britain to join IS in 2014 and sent shockwaves around the region when he appeared in a chilling recruitment video for the terrorist group.
Mr Marvin continued: "When I phoned him, he was in Syria and was delivering meals to other fighters in IS.
"He sounded no different to me, he told me he had met these people in Leicester. He was supposed to make a pilgrimage to Mecca, but he never made it.
"It's crazy, can you imagine your friend telling you they were a terrorist? He told me that he was nearly killed by a suicide bomber – it's insane.
"You have to remember that when he told me he had joined, no one really knew about IS yet.
"In the months after it broke, the beheadings started, and that's when my sympathy drained away."