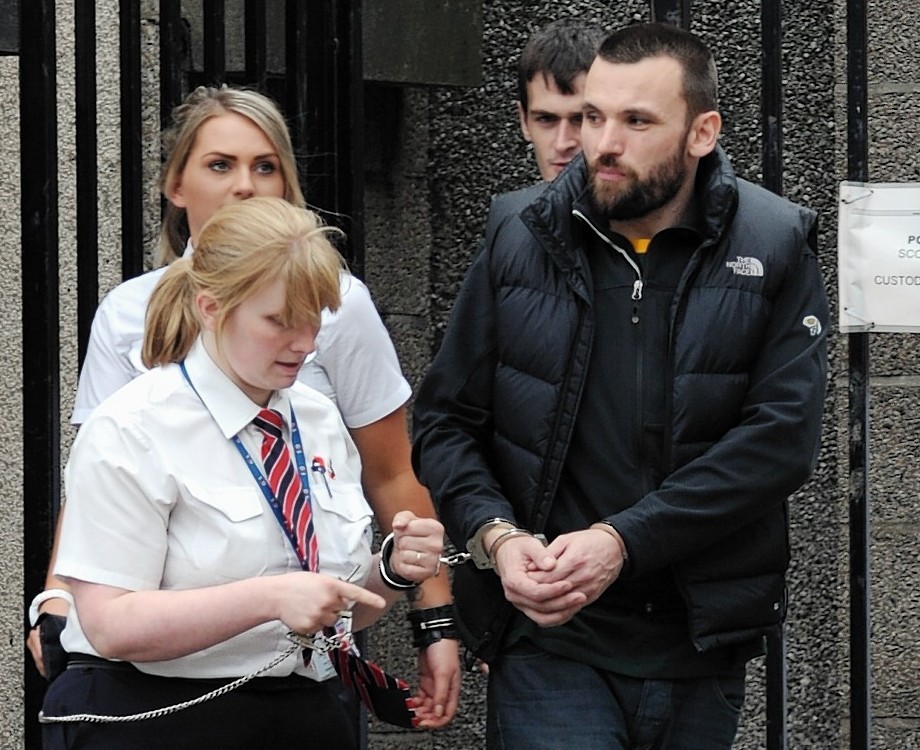 An armed robber who insists he was wrongly convicted was back behind bars last night after he attacked a man in a case of mistaken identity.
Former Gordounston pupil Paul Macklin has been in and out of jail for 20 years.
But he always claimed he was wrongly convicted of pointing a gun at police and staging a £300,000 wage heist in Aberdeen in 1994. He was sentenced to eight years in prison for that offence.
Macklin has been trying to clear his name since his release from jail in 2013 and vowed he was going to start a new life in the Alps in order to avoid more trouble.
But yesterday the repeat offender was jailed for 30 months after he viciously attacked a man in the street after he mistook him for the person responsible for robbing his partner.
Macklin was convicted by a jury earlier this month of assaulting Barry MacKie by repeatedly pushing him, jumping on him and struggling with him on the ground on November 13 last year.
Aberdeen Sheriff Court heard the incident took place when the 42-year-old and his girlfriend Deborah Norval, who was also his co-accused, went to meet a drug runner on the city's Great Northern Road.
Norval's solicitor Paul Barnett said his client met the runner on her own and when she approached him he held her at knife point and stole her money.
He said following, this Norval told Macklin about the incident and they spotted Mr MacKie, believing it was the man responsible.
The pair then attacked innocent passerby before taking his wallet, cigarettes and his mobile phone.
Macklin, a prisoner in HMP Grampian, was also in possession of a knife at the time of the assault, which he later tried to hide from the police when they arrived.
He was also found guilty of attempting to defeat the ends of justice by trying to evade arrest.
Representing the repeat offender solicitor Graham Morrison said his client's previous offences had all been "meticulously" planned "enterprises" however said that since his release from prison he has lapsed into a world of drink and drugs.
He said this has been fuelling his criminal behaviour.
Sheriff Annella Cowan said with his criminal record he could expect nothing more than to go back to jail and sentenced him to 30 months.
Norval, 39, of 16 Middlefield Terrace, was sentenced to one year in prison for her part in the attacks and acting in a racially aggravated manner at Aberdeen Royal Infirmary two days later.
Christopher Paton, 40, of flat 10, 729 Great Northern Road, previously admitted helping the pair during the robbery. He was ordered to carry out 240 hours of unpaid work within the year.