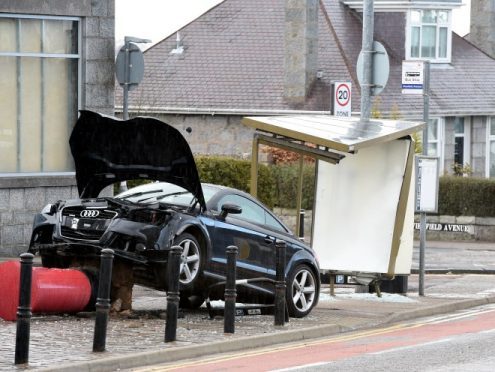 It wasn't a red letter day for this sports car driver who smashed into a postbox in Aberdeen.
Emergency crews rushed to the scene of the incident, involving an Audi TT, outside shops on Seafield Road at around 4.05pm.
The car also powered through a bus stop before knocking down the red post box on its destructive spree.
One woman was taken to hospital by ambulance for treatment following the crash, although her injuries were not thought to be serious.
Councillor Martin Greig, who represents the area and lives nearby, called the crash "deeply unsettling".
He said: "This incident has shocked the community. This is a busy junction where there are genuine worries about road safety.
"Vehicles need to be extra careful in this residential area. The roadway curves and there is no reason for excessive speed.
"Drivers should be patient and respectful towards others in our area. The force of the collision is appalling to imagine.
"There must have been great power involved to knock over a postbox.
"This is deeply unsettling. It is such a relief that no-one was at the bus stop or in the path of the vehicle.
"There are many vulnerable pedestrians walking about.
"Airyhall Primary, the library and other facilities are nearby and residents should feel that they can walk around in safety."