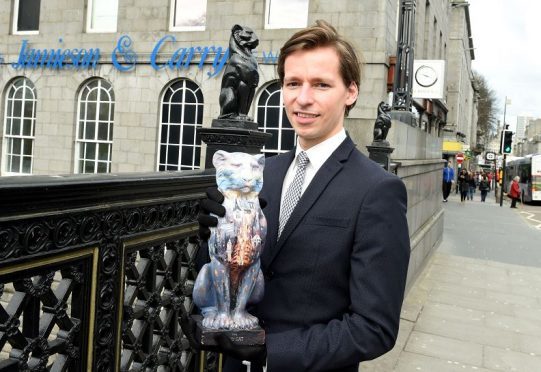 A community group is hoping an Aberdeen art initiative will leave people positively purring.
The Cat Parade has been organised by the city's Bon Accord rotary club to help mark its 100th anniversary.
As part of the event, 100 replicas of the iconic Kelly's Cats, which adorn the parapet of Union Bridge, and were painted by both professional and amateur artists, will be auctioned off to raise funds for Unicef, Clan, and Denis Law's Streetsport initiative.
Sam Murray, president of the rotary club, said: "We wanted to bring a smile to the people of Aberdeen during these harsh economic times and involve them in an art project which will ultimately raise muchneeded funds for worthwhile causes."
The centre-piece of the exhibition will be Auld's Cat, painted by the late artist, Eric Auld, which was part of a similar exhibition a decade ago.
It was given back to the rotary club to auction off at this year's event and currently has a new home, in the window of Jamieson and Carry Jewellers, which has been a fixture in the city for nearly 90 years.
Angus Carry, partner at the shop, said he was delighted the family business could support the initiative.
He said: "The project in 2005 was a great success and brought prestige to Aberdeen and also helped raise funds for charity.
"The position of our building, which we have been in since 1925, is right next to Kelly's Cats in Union Street, which is quite a significant feature of the city.
"It's nice to be able to support the organisers."
People will be given the chance to sponsor the cats and arrange for them to be decorated.
The idea behind the scheme is that the pieces will be decked out by artists, professional and amateur, as well as local school children.
Once completed, they will be exhibited at a venue in the city, and the participants will have the chance to pay a fee and keep the cats, or they will be auctioned off.
The rotary club is hoping to hold the exhibition and auction in September.
Anybody who wants to get involved in the project should contact Sam Murray at catparade@btinternet.com