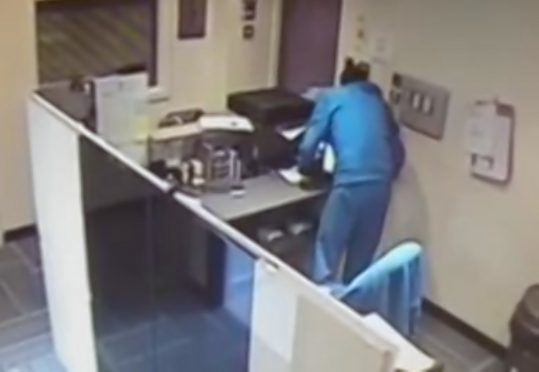 A man who was caught on CCTV stealing a cash register from an north-east gym has been jailed.
Repeat offender Derek Ellington was spotted on security cameras raiding the Berryden-based Aberdeen Fitness and Combat Centre on February 13.
After the break-in, footage of Ellington went viral on social media sites and he was soon identified as the person responsible for the theft.
And when the 29-year-old realised his cover was blown he approached the manager of the club and offered to pay him back the £180 he had taken from the ripped out cash register.
Yesterday Ellington appeared at Aberdeen Sheriff Court and admitted stealing from the popular training facility which specialises in mixed martial arts, boxing and other combat sports.
The footage shows Ellington entering the property at around 2.21am. He can clearly be seen wearing a blue hoodie and blue trousers as he makes his way around the reception.
After lowering his hood and showing his face to the camera, he then proceeds behind the counter and examines the till, before rummaging through drawers and cupboards in search of a key.
Fiscal depute David Bernard said he had managed to enter the gym after correctly guessing the code which allows the door to open.
He said after some time inside Ellington eventually managed to dislodge the till drawer and tried to exit the building, however the door had locked behind him.
He only managed to escape by forcing the door open with his shoulder.
Representing the repeat offender, solicitor Christopher Maitland said his client had problems with drink and drugs and had been trying to fund his addictions when he broke into the fitness centre.
He said he had accepted what he had done from the outset and had even offered to pay back the money from his benefits.
Sentencing Ellington, a prisoner in HMP Grampian, Sheriff Annella Cowan said the break in was a "pretty stupid thing to do".
She sentenced him to nine months in prison backdated to February 16 when he was first remanded in custody.