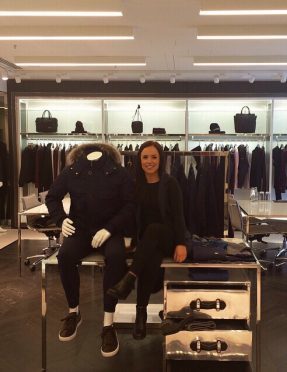 Joanne Warnock
Two fashion students at Robert Gordon University are blazing a trail for Aberdeen with major companies across the world on experience-building placements.
The duo of third-year fashion management students have secured openings with globally-renowned companies, as part of their course.
Aberdeen-born Kirstin Ritchie is currently in New York, with RR Rentals, which hires out contemporary clothing to Big Apple stylists.
She said: "I have been on fashion shoots, in music videos and part of advert campaigns. It's out of this world."
"My role is to assist stylists when they come in and show them the different options we carry for whatever they may need."
International student Fiona-Marie MacPherson, from Munich, has returned to her home city for placement with Michael Kors. Using her PR training, she helps translate press coverage for the company.
She said: "I am the PR intern for Germany, Austria and Switzerland. The next big event I will be involved in is Munich Press Day, where important editors come and view the new collection."
Placement officer at Robert Gordon University, Anne O'Neill said: "It's very exciting to hear what the students are doing on their placements.
"We love hearing how they get on and Kirstin and Fiona are indicative of the experiences our students can have."