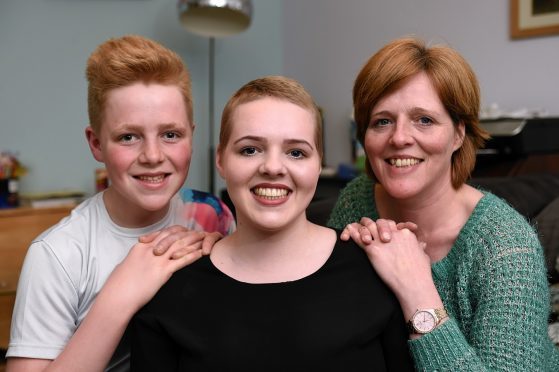 Sitting among the crowd at Starbucks in Aberdeen's Union Square, Jenni Smith hardly looked like somebody who had just recovered from cancer.
Armed with a big smile and joyful laugh, she talked about her recent trip to Piperdam [in Fowlis, near Dundee], where she took part in her boyfriend's sister's hen night.
And she revealed a delicate scar on her neck which marked the spot of a lump she had removed last summer.
"It's really neat and they did a great job," said the Turriff woman. "It's just like a crease on my neck – I can't fault them."
The 20-year-old was diagnosed with stage four Hodgkin lymphoma in June 2015.
After four blood tests, she was referred to hospital and said: "They said a lot of young people get that kind of thing and not to worry about it.
"When I got the results back they were inconclusive because they didn't have enough from it to tell. Then I got it removed to do a lymph node test, which came back positive."
Throughout her treatment, Ms Smith received great support from her mum, Marsaili, her brother, Keir, boyfriend Graeme and his family.
On hearing her diagnosis, she went to live with her boyfriend, as she didn't want her family seeing her.
As she explained: "I didn't want to be horrible to my mum but I didn't want her seeing me in a really bad way.
"She was with me when I got the news. I was going to go on my own, but the night before she said she didn't feel right and came with me.
"When I started chemo, she found that hard. When we walked into the room there were seats along the sides and along the back and she just burst out crying.
"She found it hard to see me, a 19-year-old girl, just sitting there."
However, she carried on with her gruelling treatment and was given the all-clear in February.
Yet, just four days later while driving home from her first rehearsal for Courage on the Catwalk, she was involved in a car crash and was hospitalised for two days.
Laughing at her bad luck, Jenni said: "The week before, my mum had said she didn't want to hear any more bad things about me.
"Then I had to phone and tell her I'd crashed.
"The car was a complete write-off but I think I was only in hospital because I'd had cancer."
One of the hardest things for Jenni during her journey was losing her hair.
She watched her friends get ready for nights out and eventually decided to shave her hair off as she wanted to feel in control.
She said: "In the shower, it came out in clumps and I'd cry when I woke as it was all over my pillow.
"One night, when I was feeling down, I said to my mum that she needed to make me feel better.
"I ended up phoning friends asking if they had razors and my mum actually just used the dog's razor. It made me feel better having it all off."
Although Jenni spent the last year of her teens extremely unwell, her friends were a great support to her and even arranged for her to celebrate her 20th birthday.
They also voluntarily shaved their heads, and raised more than £6,000 for Macmillan cancer.
She said: "When I was in hospital one day, this thing came on the TV called "Brave the Shave" and I texted them in a group chat asking who wanted to do it, as a joke, but they all said yes.
"My friends definitely kept me going."