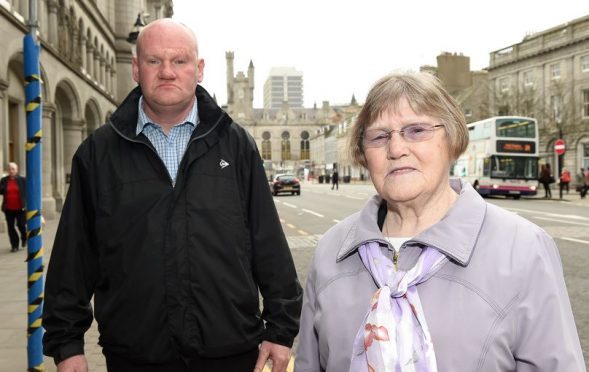 A RETIRED widow is terrified to live alone after a neighbourhood dispute over a boundary fence led to her being stalked by a career criminal.
Mark Mickowski threatened to kill 76-year-old Joyce Watt as she stood watering her flowers on her windowsill.
The following day the 39-year-old drug courier turned up outside her house again with a petrol can and shouted a tirade of abuse at her.
Yesterday, Mickowski admitted stalking the pensioner and causing her fear and alarm and was banned from contacting her for a year.
But last night a tearful Mrs Watt said she feared for her life while Mickowski's mother still lives next door to her.
She said her 47-year-old son Kevin has had to move back in with her so she is seldom alone.
She said: "I know people think they are just threats but how am I supposed to be sure he didn't mean them? I don't know what people are capable of.
"I'm terrified of what might happen to me when I am alone."
The keen gardener and bowler said the tension between her and Mickowski's family was so bad she had to have CCTV cameras installed.
And she said she has to cut short her time at church on a Sunday morning as she is scared to leave her home alone for too long.
Aberdeen Sheriff Court heard yesterday there had been a "longstanding" dispute between the two families dating back about three years.
Fiscal depute Alan Townsend said there had been various incidents which had not involved the police being contacted.
But on July 5 Mickowski was caught on CCTV threatening the pensioner from outside her home in Aberdeen's Gillespie Crescent.
Mr Townsend said: "At around 8.20am on July 5 last year Mrs Watt was tending to her flowers on her lounge windowsill. She became aware of the accused standing in front of her garden gate.
"She observed the accused gesticulate and he was acting in an aggressive manner towards her instructing for her to come outside. Unsure what he wanted, she came to her front door.
"She said 'Mark it's 8.20am go away, I'm not interested in what you have to say'.
"Before she could say anything further he shouted to her 'I'm going to kill you'."
The court heard the incident lasted for about two minutes.
Mr Townsend said the following day, at around 7.45am, Mrs Watt looked out the lounge window and saw the accused standing by her gate again and making threats.
He said this time the incident lasted for about 30 seconds – but Michowski was holding a petrol can.
He added: "She feels terrified and no longer feels safe in her home."
The court heard that when questioned about the incident Mickowski, who was jailed in 2012 for acting as a courier for £100,000 of cocaine, said his brother was partly responsible.
Mr Townsend said: "The accused accepted he was present on the first occasion and said 'I raised my voice I did not shout'.
"He initially denied being involved on the second occasion with the petrol can and said 'it might have been my brother we all look alike and all feel the same way'."
Representing the repeat offender solicitor John McLoone admitted his client was "not an angel", but said violent behaviour was "completely out of character" for him.
He said: "Neighbour disputes never seem to resolve and most are normally over the most trivial of matters.
"They have been neighbours for 15 years and they were very good friends. Then a fence was built around the boundary and people seem to be very jealous of people's ground. There was a considerable problem with the neighbour and Mrs Watt's son was involved also.
"It was beginning to wear his mother down and she was getting ill over the heads of it. He had not involved himself throughout all of this time but found himself very upset so went round to remonstrate."
Sentencing the repeat offender Sheriff Christine McCrossan said she accepted he was not in the habit of being violent.
However, she added that she could not ignore the fact Mrs Watt was now terrified.
She said: "This lady is entitled to feel safe in her own home and when faced with a situation where she is scared to live in her own house the courts have to take that very seriously.
"The lady does not feel safe and I want to stop her feeling that way. So in order to ensure the protection of your neighbour I am going to impose a non-harassment order. Any breach of that order is a serious offence in itself."
Sentence was deferred on Mickowski, of 35 Ronaldsay Square, for six months for him to be of good behaviour.