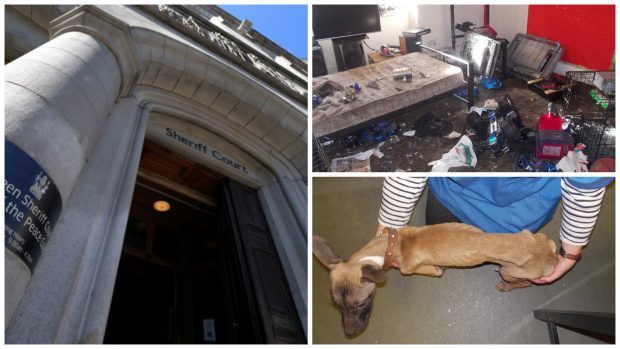 A man who neglected his three dogs and left them fighting over food in his squalid flat was jailed today.
Ivor Duncan fell foul of drugs and alcohol while his Staffordshire Bull Terriers were left to chew on food cans and use his flat as a toilet for three months.
The 32-year-old would only pop by his flat in Aberdeen every couple of days to give the dogs scraps – as they slowly starved amongst the squalor.
The youngest pup got so thin that when he was eventually rescued by animal welfare officers he was described as "skin and bone".
SPCA inspectors eventually had to call in the police to help force entry to Duncan's top floor council tenement.
The conditions that the dogs were living in were so bad that they never recovered from the "mental anguish" and they ended up being put down – despite battling back to peak physical health.
Duncan appeared at Aberdeen Sheriff Court today where he admitted two offences under the Animal Health and Welfare act.
He pled guilty to failing to provide adequate nourishment and exercise to the point where they became emaciated and suffered from "extreme stress" and developed behavioural difficulties.
Depute Alan Townsend said SSPCA inspectors were called out Duncan's top floor flat after other residents in the tenement raised concerns about the welfare of the dogs.
Inspectors had to force entry into the premises, where they found the three Staffordshire Bull Terriers in "bad condition" and "vying for attention".
The youngest dog, a puppy of the other two, was "extremely emaciated", the court heard.
Townsend said: "It was effectively skin and bone.
"The other two dogs were also described as very thin.
"On opening the door, the dogs were so desperate to get out that they pulled the leads out of the inspector's hands.
"The youngest dog had to be carried out."
Aberdeen Sheriff Court heard that food tins had been chewed flat by the starving animals as they had only been fed occasional "tit-bits" by Duncan every few days.
Inspectors found urine and feces in the flat, with the floors covered in rubbish.
The kitchen was described as "horrendous". Townsend added: "The only way into the kitchen was to walk on top of the rubbish.
"What was thought to be the living room was so cluttered that the doorway was the only accessible part.
"The conditions were felt to be unacceptable for the dogs to be living in."
The animals were taken to the vets where they were all found to be underweight and flat footed due to lack of exercise.worst off – the young male Staffy called Lugs – was found to be around 4kg under its ideal weight.
Townsend said: "Every bone is his body could be seen sticking out of his skin."
Although the dogs showed signs of malnourishment none of them had underlying medical issues nor did they show signs of abuse.
After being taken into care by the SSPCA they all reached a healthy weight but such was the nature of their ordeal that they never recovered mentally.
They continued to show "severe stress" and "behavioural issues" despite the best efforts of experts – meaning all three dogs had to be put down.
Later asked about the living conditions in his flat by SSPCA inspectors, Duncan replied: "They were not good.
"I haven't cleaned it in a while."
Defence agent Mike Monro admitted his client's neglect would be viewed with "abhorrence". He said that Duncan had been suffering from drug and alcohol problems at the time of the offences, which were committed between July and September 2014. His solicitor added: "The tragedy of this case is that the dogs had to be put down due to the their mental state.
"They had been left in such an intolerable state that there minds had become locked into that and they were never going to be able to go into a loving household.
"It was due to the mental anguish of what they had went through for these three months, it was irreparable."
Sheriff Christine McCrossan said the scene that SSPCA officers were greeted with on entering Duncan's flat was "almost beyond description"
The sheriff imposed a 23 week jail sentence on Duncan and banned him from keeping animals for at least five years.will have to apply to the courts after five years if he wants to keep animals ever again.
Scottish SPCA Inspector Fiona McKenzie said, "We welcome the prison sentence and ban given to Mr Duncan following our investigation.
"In our experience custodial sentences are relatively rare under the Animal Health and Welfare (Scotland) Act, which demonstrates the serious nature of this case.
"All three dogs were in poor bodily condition and they had an immense desperation to get out of the flat, indicating they had not left for some time.
"Within the flat there were bags of rubbish, food tins which had been chewed by the dogs and evidence of urine and faeces. The kitchen was in a horrendous state and the only way in was to walk on top of all the rubbish.
"Unfortunately, although all three dogs reached their ideal weight in our care, the mental suffering they had been subjected to as a result of being kept within the flat and not being socialised meant they all struggled severely and this was causing them a huge deal of distress.
"Tragically, despite our continual efforts to try and resolve these issues, they proved to be irreversible and on veterinary advice they had to be put to sleep.
"We hope Mr Duncan will reflect on his behaviour and the consequences of his actions following this case."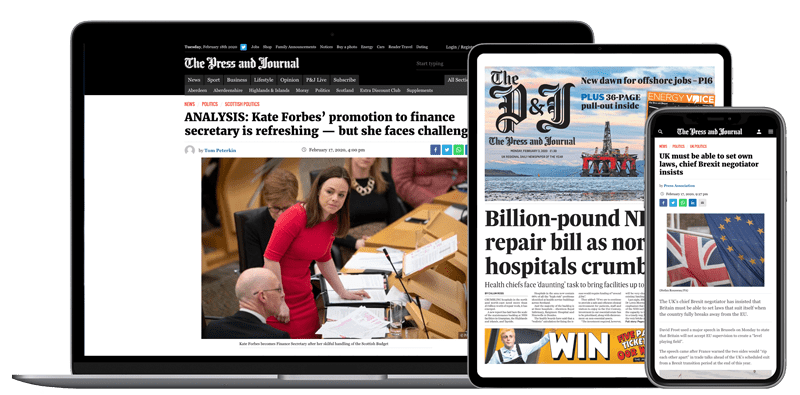 Help support quality local journalism … become a digital subscriber to The Press and Journal
For as little as £5.99 a month you can access all of our content, including Premium articles.
Subscribe