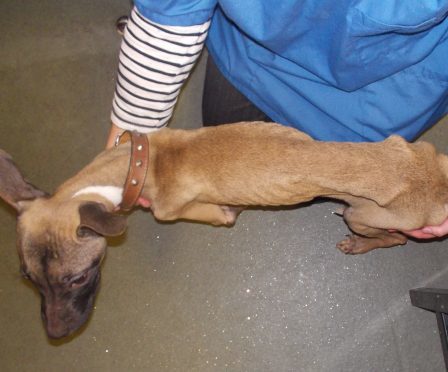 An Aberdeen man has been jailed for leaving three dogs to starve in a squalid flat until they were so traumatised they had to be put down.
Ivor Duncan neglected his Staffordshire Bull Terriers until they had reduced away to "skin and bones".
The pets were left alone for days on end in the faeces-covered flat, and were so hungry that when the authorities found them they discovered they had devoured a mattress.
The dogs were also using his filthy toilet bowl as their main source of water.
And despite desperate efforts from the Scottish SPCA the dogs never recovered from the "mental anguish" caused by the months of neglect, and had to be put down.
Yesterday the 32-year-old appeared at Aberdeen Sheriff Court and admitted carrying out two offences under the Animal Health and Welfare act between July and September 2014.
Fiscal depute Alan Townsend said SSPCA inspectors were called out Duncan's top floor flat in the city's Great Northern Road after his neighbours raised concerns about the welfare of the dogs.
He said that when they forced their way into the flat, they found the three Staffordshire Bull Terriers in "bad condition" and "vying for attention".
The court heard the youngest dog, a puppy of the other two, was "extremely emaciated", and weighed around half its recommended weight.
Mr Townsend said it was "effectively skin and bone".
The court heard the flat was so dirty it was littered with rubbish, faeces and chewed up food tins. Mr Townsend said there was no room on the floor to walk without treading over the mess.
Defence agent Mike Monro said his client's neglect of the dogs named Lugs, Miles and Mia was "abhorrent".
He said: "The tragedy of this case is that the dogs had to be put down due to the their mental state.
"They had been left in such an intolerable state that there minds had become locked into that and they were never going to be able to go into a loving household."
Sheriff Christine McCrossan said the scene that SSPCA officers were greeted with on entering Duncan's flat was "almost beyond description".
She jailed Duncan, of 165 Crown Street, Aberdeen, for 23 weeks and banned him from keeping animals for at least five years. He will have to apply to the courts if he wants to keep animals ever again.