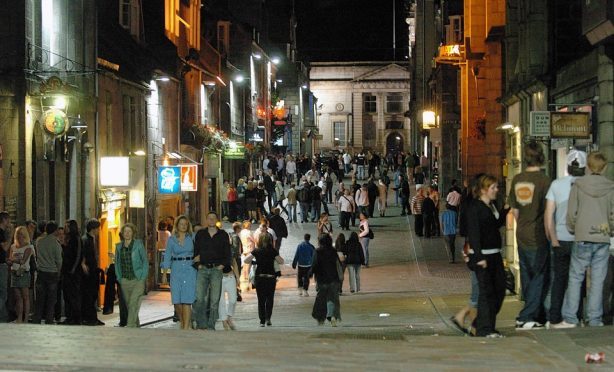 A New Year reveller caught having sex on a busy Aberdeen street was fined today – despite the woman avoiding prosecution.
Ross Sanders was detained by police for public indecency after romping in a shopping mall doorway.
The 28-year-old had been out partying with pals but ended up being thrown out of pubs in Aberdeen in the early hours of January 1 because he was so drunk.
His heavy intoxication soon led to heavy petting with a female companion just off of Belmont Street.
Amorous advances led them to engage in intercourse in an entranceway to the Academy shopping centre on Belmont Street, where they soon attracted the attention of fellow late night party goers.
Police arrived slightly later bringing the street spectacle to an abrupt end when Sanders was detained.
Sanders appeared at Aberdeen Sheriff Court today having already admitted the offence to the court in a letter.
But the Crown revealed at the last minute that the case against his female co-accused would no longer call in court.
The woman had initially faced the same charge and had denied the offence.
Defence agent Les Green initially expressed his surprise at the Crown's decision yesterday.
He said: "To coin an old phrase it takes two to tango."
But he added: "Mr Sanders does not need to have this hanging over him for any longer."
Fiscal depute Jamie Dunbar said that several members of the public had come across the pair engaged in liaisons around 1.45am.
He said: "Police witnesses were on foot patrol. As they were passing the locus their attention was drawn to several members of the public who were shouting and pointing towards the entrance.
"Police witnesses observed the accused and a female engaged in sexual intercourse in full view of the public.
"Police approached the accused and asked him to cease and he did so.
"He was taken to Kittybrewster Custody Suite where he was cautioned and charged around 2am the same morning."
Mr Green said his client had overindulged in alcohol on his festive night out celebrating the start of 2016. The solicitor said: "He had been out celebrating the evening before.
"He has vague recollections of what went on that night. He was asked to leave several bars in the area for being too drunk.
"Even in this drunken state they have tried to achieve some discretion by going into an entrance in an attempt to get some semblance of privacy."
The offence that Sanders pled guilty to would usually attract a period of time on the sex offenders register. Mr Green asked sheriff Margaret Hodge to accept that the crime did not warrant this approach. The Sheriff accepted that there was not a "significantly sexual aspect" to Sanders's behaviour and did not place him on the register. She said: "This was an unedifying episode.
"I take into account the date and that a considerable amount of alcohol had been consumed."
Sanders, from Strachan, Banchory, was fined £250.
When he was leaving court he branded the crown's decision not to call his co-accused's case as "unfair".