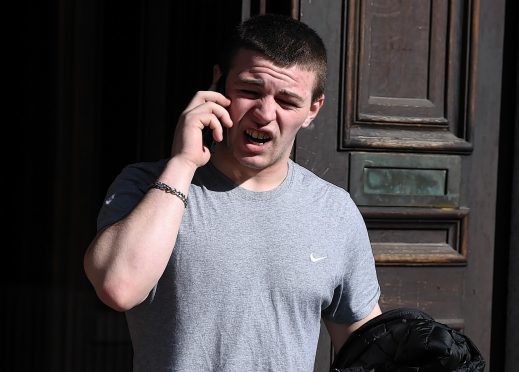 A teenager who threw his pet parrot around in a drink and drug-fuelled rage narrowly avoided being locked up yesterday – but was branded a "danger to animals".
George Clark spent Hogmanay drinking and taking legal highs before returning to his home in Aberdeen and lashing out.
The 19-year-old's mum, Isabella Higgins, was woken up at about 3.45am after he ripped his bedroom door off its hinges and threw it through his bedroom window.
When she went to investigate the cause of commotion, she caught him throwing his parrot's cage across the living room – with the distressed pet still inside.
As Ms Higgins tried to stop him inflicting further injury on the bird, Clark slapped her across the face and pushed her backwards, causing her to fall to the floor.
And when she subsequently fled to his sister's nearby home, Clark proceeded to smashed a brick through the living room window.
When the police arrived at the scene later that morning, the teenager gave them a false name in an attempt to avoid being detained.
Clark, of Flat B, 15 Seaton Avenue, appeared at Aberdeen Sheriff Court yesterday to be sentenced for the offences, having previously admitted five charges against him.
He admitted recklessly destroying property at the two addresses and assaulting his mum. He further admitted causing the parrot unnecessary harm and attempting to pervert the course of justice.
As a result of his behaviour Sheriff Alison Stirling banned Clark from owning or keeping and pets for six years branding him a "danger to animals".
She said: "Given your behaviour in that you threw a parrot in a cage about you are not an animal lover.
"You're a danger to animals."
And when Clark asked from the dock if he could still walk his dog the sheriff said he was to have nothing to do with his pets, who will now be looked after by his mum.
Clark was also given a community payback order, but Sheriff Stirling told him she had seriously considered sending him to detention.
He will be under supervision for the next 12 months and must carry out 80 hours of unpaid work.