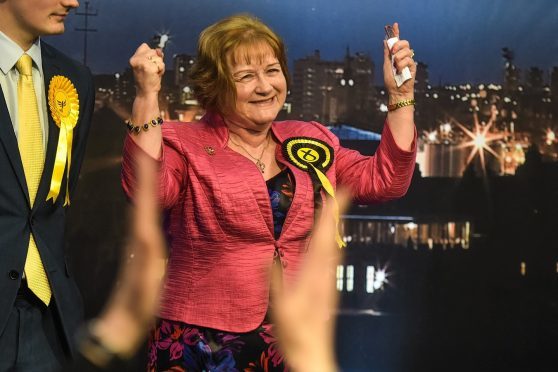 Aberdeen South and North Kincardine once more turned nationalist yellow as voters returned Maureen Watt.
Ms Watt swept back into Holyrood winning 13,604 votes, ahead of the Conservatives on 10,849, Labour on 5,603 and the Liberal Democrats on 2,284.
She said: "It is a constituency that has represented all major parties so to win the seat tonight is a real victory."
Labour was bitterly disappointed not to take the constituency back from the SNP after sustained campaigning by candidate Alison Evison.
But Tory candidate Ross Thomson said he felt his party was seeing a "revival" and praised leader Ruth Davidson for "reinvigorating" the group.
Mr Thomson – who has high hopes of landing a North East seat on the regional list – said their strategy of painting the Conservatives as the only true Unionist party had paid dividends on the doorsteps.
He said: "We're definitely seeing a revival, Ruth has definitely reinvigorated the party.
"She has a good team of people behind her and she's making the Scottish Parliament exciting again.
"People said this was going to be a dull night but it's one of the most electrifying I can remember.
"It looks like we are now going to be Scotland's official opposition."
Aberdeen South and North Kincardine was ahead of others in the Granite City in terms of turnout with 32,471 of the constituency's 59,710 eligible voters casting their ballots.