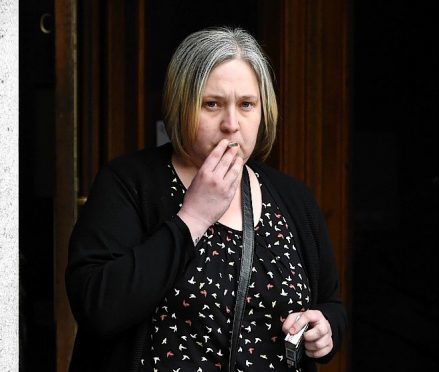 A woman has been convicted of lashing out and assaulting a schoolboy after he gave her a "threatening" stare.
Kelly Smith had been on trial at Aberdeen Sheriff Court yesterday accused of kicking and threatening to punch the child just days before Christmas last year.
The boy, who can not be named for legal reasons, said the 35-year-old told him she was "frightened" of him before carrying out the prolonged attack, which also involved her shouting and swearing at him.
Smith, of 25 Clova Crescent, Kingswells, denied the charges against her and claimed he was lying about the incident because he "didn't like her".
But Sheriff Christine McCrossan took only a few minutes to find the woman guilty of the attack.
The court heard evidence from the child and his dad during the day long trial yesterday.
Both described the incident, which took place at an address in Aberdeen, however discrepancies arose over where in the house they claimed Smith had kicked him.
As a result of the differences in their accounts, Sheriff McCrossan deleted the allegations of the kick from the charge, however she was convicted on the remainder of the accusations.
During evidence both the boy and his father said that the child had looked at the accused in a way she interpreted as being "threatening".
The child said this was "accidental" but accepted he may have stared at her in an unusual manner.
Both witnesses also said the boy's dad had to step in between Smith and her victim in order to stop him from being further attacked.
The child also claimed she had made derogatory remarks to him by calling him "Pepper the Poof".
The court heard the boy was extremely upset after the incident and had been crying as a result of the attack.
Representing the first offender, solicitor Paul Barnett said his client still denied the incident took place as the boy said, and that she was extremely upset by having to appear in court.
Sheriff McCrossan said she took into account the incident appeared to be out of character for her and ordered her to be of good behaviour for four months. She will return to court to be sentenced later this year.