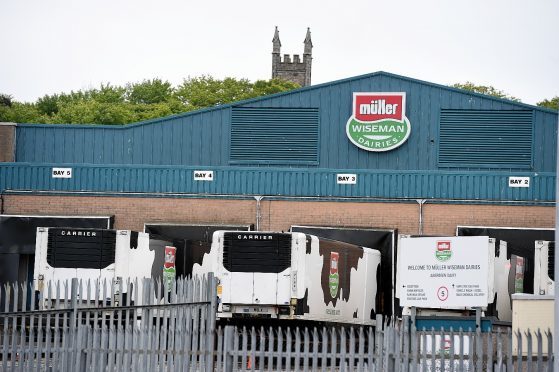 Milk giant Müller has pulled the plug on its Aberdeen dairy operations with the loss of 60 jobs.
The German firm has confirmed that the final production runs have now been processed at the site in the city's Tullos area.
The dairy company said the factory was only running at 38% capacity and the milk being produced at the site was "far in excess" of customer requirements in the area.
The closure results in 60 redundancies. A number of staff are understood to have left the business since a 45-day consultation got under way at the start of April.
A spokeswoman for Müller said: "We aimed to close our dairy at Aberdeen as soon as was reasonably possible in June given the losses that the dairy was incurring.
"The last production runs will take place today before we move to a decommissioning process. Unfortunately the closure has resulted in 60 redundancies at the site."
Müller has come under fire in recent weeks from farm leaders for the move, which is part of a £15million redevelopment and reorganisation of its Scottish assets.
The huge cash injection is to be invested over the next three years at Scotland's largest fresh milk dairy at Bellshill.
However it means the farmers who supply the Aberdeen site are facing a stark choice – pay a "transport tax" or have their contracts terminated within a year.
The 43 dairy farmers who currently supply milk to the north-east dairy can continue to supply Muller but only on the acceptance of a 1.75 pence per litre fee for transporting their milk to Bellshill for processing.
Farmers who do not wish to continue supplying the company will be given 12 months to make "alternative arrangements" before their contracts are terminated.
Müller is also closing a dairy plant in East Kilbride as part of the reorganisation.
Operations at the East Kilbride site will continue for the next 18 to 24 months to allow time to transfer production lines across to Bellshill.
More than 200 jobs across the Aberdeen and East Kilbride sites will be affected overall by the changes.
NFU Scotland said it was continuing to provide support for a feasibility study into building a new milk processing plant in Aberdeenshire.