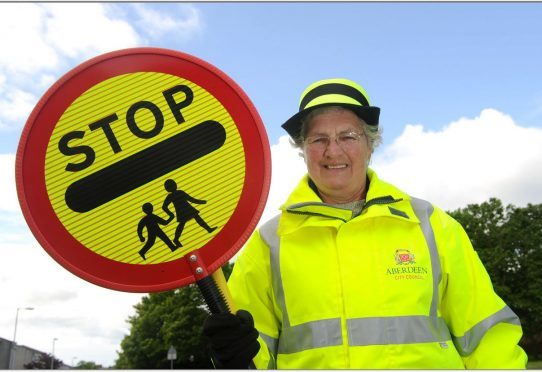 An Aberdeen lollipop lady has been honoured for helping generations of the city's children safely cross the road.
Pearl Rendall says she is now seeing grandchildren of the pupils she first helped when she began her role at Kingsford School in 1981.
The 74-year-old, from the Sheddocksley area of the city, was "speechless" when she opened her letter informing her the Queen wished to award her the British Empire Medal.
"I was just speechless, really shocked," she said.
"I've been given awards before by Asset Soctland and the Evening Express before but to get one from the Queen is really out of this world.
"I've been doing the job so long that I'm now seeing the kids and even grandkids of the original pupils I helped cross.
"The only people I have told are my son and daughter and twin grandkids but I suppose the secret will be out when people read this."
She added that she would continue with her duties "as long as she could".
"I want to carry on for as long as possible although age is catching up with me, and it can be hard in the winter with the weather. But the kids make it worthwhile.
"The kids bring me dandelions and daisy chains, it's just lovely. The kids are what really make the job great.
"I don't know why I've been given this award when there must be many lollipop people in the city who put just as much into it as I do.
"I would love to think that I'm accepting the medal on behalf of all of them."