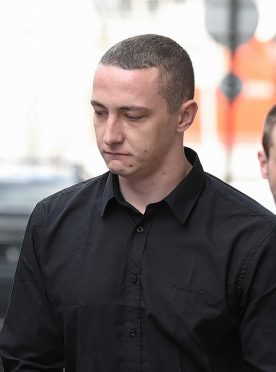 A man has been jailed for five years after being convicted of battering a north-east university worker round the head with a dumbbell.
Tony Winchester was on trial at the High Court in Aberdeen, accused of attempted murder.
It was alleged he had tried to kill 62-year-old William Pirie on August 21 last year by repeatedly bashing him round the head with the 4kg wight.
However, the 26-year-old denied the allegations and claimed he had accidentally struck Mr Pirie with the dumbbell after the Aberdeen University worker head-butted him.
The court heard during the trial that, as a result of the head injury sustained by Mr Pirie, he was left with permanent scarring and has had to relearn how to carry out simple everyday tasks.
Yesterday, a jury of nine women and six men found Winchester guilty of the assault, but accepted it had been carried out under provocation.
This meant the attempted murder allegation was deleted from the charge and he was left convicted of an assault to cause severe injury, permanent disfigurement and impairment.
Advocate depute Alan Summers, QC, told the court Winchester had a string of previous convictions, including two custodial sentences for crimes of violence.
Winchester's counsel, Graham Robertson, said that his client had been in custody since the date of the incident last year and urged Lord Beckett to be "lenient" on him.
However the high court judge said he had to protect the public from his offending.
He added: "The complainer suffered appalling injuries as a result of you striking him on the head with a heavy dumbbell. You did this as he was on the ground and required surgical intervention for the life-threatening injuries.
"However he behaved that day, you are a younger, taller and stronger man with a concerning criminal record. This is the fourth time you have appeared on indictment, albeit the first time in the High Court."
Lord Beckett added: "Given the nature of this crime and injuries you caused, even allowing for provocation, I consider it necessary to impose a substantial custodial sentence to protect the public from your offending behaviour."