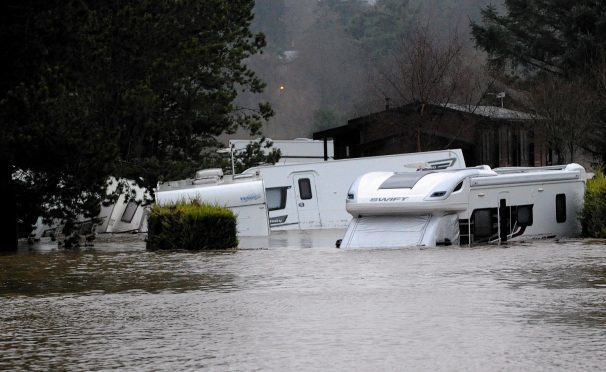 A north-east holiday site which was hit by more than £3million worth of damage during the ravages of Storm Frank has opened for business again.
The Deeside Holiday Park in Maryculter was blighted by flooding on two separate occasions when the River Dee burst its banks and gales swept in, engulfing the facility in six metres of water.
The caravan park has been run by Wood Leisure since 2008 and includes a mixture of privately-owned and rented accommodation.
During the last six months, staff have worked to renovate the site and, yesterday, members of the public were invited in to see what they had done.
The new facilities include caravans for hire, a hot tub collection as well as new shower and laundry facilities.
Sarah Wood MacGregor, a partner in Wood Leisure, spoke of her delight at finally being able to reopen.
She said: "The park would like to offer a huge thanks to everyone who has worked and supported the effort to restore the park.
"This has helped us reach the momentous occasion where Deeside can officially open the gates to their loyal and enthusiastic customers and welcome them back into the park.
"It has been a monumental task and a huge challenge for the family to resurrect the holiday park, notwithstanding the massive investment and the rigours of bureaucracy to surmount."
She also spoke of her determination to ensure that the popular resort gains a five-star rating.
She said: "Works are planned to ensure that the holiday park is secured for the future and preventative measures have been implemented.
"New park buildings are planned and the family are determined that their new designs will surpass the five-star facilities demolished by storm Frank.
"Deeside Holiday Park is now a happy, positive place and is whole-heartedly looking forward to welcoming back old friends as well as new visitors to the area.
"The park looks forward to a warm, sunny summer for its guests and hopes all the local businesses who have suffered from the devastating effects of the flooding are also managing to get back on their feet."