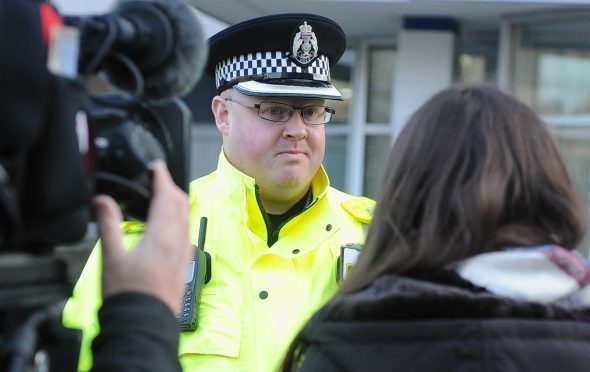 One of the north-east's leading police officers has vowed to quash rising levels of violence in rural communities across the region as he steps into his new role.
Chief inspector Murray Main has taken the helm of the force's Aberdeenshire South region after 26 years spent policing in Aberdeen city and shire.
His new patch stretches from Turriff to Ellon and Braemar to St Cyrus – an expanse which Ch Insp Main had admitted covers a wide range of "different and diverse needs".
But, through the force's Operation Pine initiative, he is aiming to ensure Aberdeenshire remains "one of the safest and most secure places" in Scotland.
He said: "Violence is going to cause us a challenge and after many years, 40 years of reduced violence – and while overall violence continues to fall – we have noticed an increase in serious assaults right across our area, right across the city, and in towns and villages across the north-east.
"Now, one could point to a change in definition but, for me, it goes further than that.
"The reality is we are still getting far too many serious assaults. We are seeing increased incidences of serious assault. But I take great pride in the fact our detection rates are excellent.
"We must get further upstream and prevent assaults taking place, to protect vulnerable victims."
Ch Ins Main has also vowed to work on policing engagement with communities, in the hope of establishing a "two-way process" for preventing crime.
He added: "I set about reviewing and revisiting our levels of engagement – particularly with community councils, neighbourhood watches and other partnerships.
"It is not just about visibility, it is not just about detecting crime, an important aspect of what local policing is about includes the prevention of crime."
Recently in Aberdeenshire, shops in Alford, Banchory and Newmachar have suffered break-ins broken, while there has been a spate of vehicle thefts.
He said: "We enjoy low levels of criminality in Aberdeenshire South and we are very proud of that and very protective of our communities.
"But we are not different to any other areas where at times individuals target vulnerable locations or premises that they believe they can overcome the security of by whatever means.
"And we have seen some examples of that over the last few weeks.
"We have got to make it as difficult as we can for those minority of individuals who want to offend in Aberdeenshire."